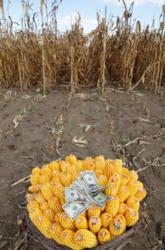 "Corn, soybeans and wheat go into many of the products that Americans buy every day and, as those prices rise, consumer confidence falls," says Lombardi.
New York, NY (PRWEB) August 21, 2012
According to Michael Lombardi, lead contributor to Profit Confidential, yet another knife is cutting into consumer confidence and consumer spending as the prices of many agricultural commodities rocket higher due to severe drought in the U.S. Midwest destroying corn, wheat, and soybean crops.
In the article "Inflation? Corn Prices Up 44%, Soybean Prices Up 26% in Two Months!," Lombardi looks at the dramatic rise in commodity prices.
Citing The Wall Street Journal, Lombardi notes, "Since June 1, corn prices are up 44% and soybean prices are up 26%."
"Corn, soybeans and wheat go into many of the products that Americans buy every day and, as those prices rise, consumer confidence falls," says Lombardi.
The other side effect of higher corn prices, according to Lombardi, affects ranchers who use corn to feed their cattle, poultry, and livestock.
"Since the cost of feeding their animals is increasing dramatically, farmers have begun slaughtering their livestock much earlier than usual," Lombardi reports. "This will drive meat prices down temporarily, but, in a few months, less supply of livestock will eventually lead to higher meat prices, which will eventually dent consumer confidence."
Lombardi believes that higher grain and meat prices will eventually "feed" into higher food prices at the grocery store and local restaurants in the coming months, which will again hurt consumer confidence and reduce consumer spending on other items.
"Sure, food costs represent only 14% of the average American's living expenses, which will result in only a minor hit to consumer confidence" says Lombardi, "But for lower-income Americans who are struggling in this economy, food costs represent a higher portion of their daily income, with estimates ranging anywhere from 30%–50%."
Lombardi thinks that in an already weak economy teetering on the brink of recession, another headwind will not strengthen consumer confidence and will, in turn, reduce consumer spending.
"Sharply rising food prices will put more pressure on consumers to pull back on discretionary spending," concludes Lombardi. "The gross domestic product (GDP) numbers for the third and fourth quarter of 2012 may look worse than economists currently forecast."
Profit Confidential, which has been published for over a decade now, has been widely recognized as predicting five major economic events over the past 10 years. In 2002, Profit Confidential started advising its readers to buy gold-related investments when gold traded under $300 an ounce. In 2006, it "begged" its readers to get out of the housing market... before it plunged.
Profit Confidential was among the first (back in late 2006) to predict that the U.S. economy would be in a recession by late 2007. The daily e-letter correctly predicted the crash in the stock market of 2008 and early 2009. And Profit Confidential turned bullish on stocks in March of 2009 and rode the bear market rally from a Dow Jones Industrial Average of 6,440 on March 9, 2009, to 12,876 on May 2, 2011, a gain of 99%.
To see the full article and to learn more about Profit Confidential, visit http://www.profitconfidential.com.
Profit Confidential is Lombardi Publishing Corporation's free daily investment e-letter. Written by financial gurus with over 100 years of combined investing experience, Profit Confidential analyzes and comments on the actions of the stock market, precious metals, interest rates, real estate, and the economy. Lombardi Publishing Corporation, founded in 1986, now with over one million customers in 141 countries, is one of the largest consumer information publishers in the world. For more on Lombardi, and to get the popular Profit Confidential e-letter sent to you daily, visit http://www.profitconfidential.com.
Michael Lombardi, MBA, the lead Profit Confidential editorial contributor, has just released his most recent update of Critical Warning Number Six, a breakthrough video with Lombardi's current predictions for the U.S. economy, stock market, U.S. dollar, euro, interest rates and inflation. To see the video, visit http://www.profitconfidential.com/critical-warning-number-six.