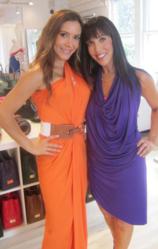 Easy to wear, so comfortable yet sexy and the guys love it!
East Hampton, NY (PRWEB) August 20, 2012
The impact of COURAGE.b's successful combo August event, which introduced Hipknoties to the Hampton's crowd, is still being felt.
As Sarah Yonover of Hipknoties Convertible Dress | Multi Way Clothing was preparing for her inaugural East Coast trunk show, she was introduced to Amy Laurent, star of Bravo's Miss Advised.  Laurent, author of 8 Weeks to Everlasting, was searching for something unique to wear during her book signing at the high-end boutique. Hipknoties immediately caught her eye.
Unaware that Yonover was the creator, Laurent insisted on wearing the same designer Yonover was wearing. After realizing that she had just paid Yonover a very high compliment, Laurent emerged from a nearby dressing room sporting her new Hipknoties that Yonover quickly customized for Laurent's look.
"Easy to wear, so comfortable yet sexy and the guys love it!" exclaimed Laurent when Yonover finished putting the look together.  Laurent has been hooked since.
Created by Yonover out of a travel necessity last summer, Hipknoties has become known to many as a "Fashion Revolution".  Solving the age-old problem women face daily when getting dressed, Hipknoties promises women of all ages and sizes the ability to create their fashion destiny. Unlike other "convertible" garments, Hipknoties' system is so unique that it has a patent pending. Using a combination of special bands, luxurious material and an online video style guide, Hipknoties allows every customer to realize the full value and potential of the garment. Yonover has even recently designed her own app so that women will have their own stylist with them at all times.
Nicolas Goureau, owner of COURAGE.b, is confident that Hipknoties will be a huge success at all of his locations, including boutiques in East and South Hampton, Manhattan, Aspen, Greenwich and Palm Beach. 
Hipknoties® is a patent pending, convertible garment that can be worn multiple ways. Made in the USA, Hipknoties' convertible dresses, convertible skirts, and infinity tops can be transformed in seconds using special bands, creating multiple styles with one piece of clothing – saving time and money.  Each Hipknoties is one size fits all, requiring only a choice of color and length, eliminating the guesswork often associated with sizing. Perfect for traveling, Hipknoties' versatility allows for endless fashion possibilities. More information about Hipknoties can be found at http://www.hipknoties.com.
Amy Laurent, Relationship Expert/Executive Matchmaker and Author, is the star of Bravo's hit reality show Miss Advised. For the past 7 years, Laurent has worked with the nation's busiest & successful bachelors locating serious relationships and perfect life partners for VIP's, celebrities & executives.  Among a select clientele, Laurent's work has earned her nearly every top honor in her industry; she is consistently ranked as one of the top executive matchmakers across the country. Laurent has been featured in The New York Times, Newsday, Men's Health, & appeared as one of Oprah's '9 Female Power Players in Business and Fashion' in August 2010. Laurent recently authored the current hit release 8 Weeks to Everlasting. More information about Amy Laurent can be found at http://www.amylaurent.com.
COURAGE.b is a unique fashion brand specializing in blending modern American ideals with eternal European styling, by designing and fabricating all branded garments and accessories in-house – offering one-of-a-kind luxury goods at direct-to-consumer prices to its discerning clientele. COURAGE.b retail stores feature high-quality, classic, feminine, and affordable fashion for women of all ages, allowing them to exercise their taste, express their style, and celebrate their strength, spirit, and personal power. COURAGE.b currently has boutiques in Greenwich, CT, Scarsdale, NY, Palm Beach, FL, East Hampton, NY, Southampton, NY and Aspen, CO. More information about COURAGE.b can be found at http://www.courageb.com.