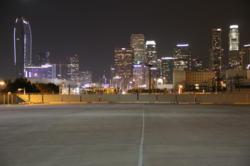 Los Angeles, CA (PRWEB) August 20, 2012
Eat|See|Hear (http://www.eatseehear.com) presented by Fandango launched in Santa Monica on May 26th 2012 showing the film Anchorman and has been traveling all around Los Angeles every Saturday night ever since. Featuring the largest and only three-story tall, outdoor HD movie screen west of the Mississippi with a 52-foot wide image, Eat|See|Hear brings together great films, gourmet food trucks and live music from the best of LA's burgeoning music scene every Saturday night creating the definitive Los Angeles summertime destination for movies, music, food and fun.
Having created a "go-to" Saturday night summer event, Eat|See|Hear is taking the traveling event series to new heights – literally – with the largest "pop-up" drive-in movie theater in all of Los Angeles this coming Labor Day Weekend. Located atop a parking lot on the campus of Los Angeles Trade Tech College (LATTC), Eat|See|Hear will be showing the Quentin Tarantino film Kill Bill Vol. 1, starring Uma Thurman on Saturday September 1st and the high school coming-of-age comedy Fast Times at Ridgemont High, starring Sean Penn on Sunday September 2nd.
Moviegoers will be treated to panoramic views of Downtown Los Angeles as the backdrop for the movie screen, with LA Live and Staples Center located right up the street. Griffith Observatory and the Hollywood sign are off in the distance as well as the mountains to the west and the east, with stargazing above. As with the other Eat|See|Hear events that have taken place on grassy fields throughout the summer, a variety of food trucks will be on hand each night as well as live music.
There will be 110 cars admitted to the "in-car" section of the drive-in with seating available for 400 attendees in front of the vehicles. While outside food and beverages are allowed, the food trucks will offer something for everyone. Radio partner The World Famous KROQ will give away Oogie's Gourmet Popcorn to anyone that has downloaded the Fandango mobile phone app on his or her phone, 7-11 will be on-hand giving away free Slurpees, and Diabolo will be on-site providing free energy drink samples.
Passes are $15 per person for the "drive-in" section (in-car) and for those that wish to bike in, take the Metro to Grand Station on the Blue Line, or you can access Metro's new Expo Line at the 23rd Street Station just steps from the event, or drive and park, there are also $10 per person general admission passes available.
Doors open at 5:30 with live music at 7pm and the film screening at 8:30pm
General Admission Passes are $10
Join Eat|See|Hear and more than 5,000 online fans on Facebook or Twitter for the latest news and updates.
August 25 – Movie: Pretty in Pink / Music: LA Font
Marina Green Park
386 East Shoreline Dr.
Long Beach, CA 90802
September 1 – Movie: Kill Bill Vol. 1 / Music: Raheem Cohen
Los Angeles Trade Tech College (LATTC)
F LOT ROOF
400 West Washington Blvd
Los Angeles CA 90015

Sunday September 2 – Movie: Fast Times at Ridgemont High / Music: tbd
Los Angeles Trade Tech College (LATTC)
F LOT ROOF
400 West Washington Blvd
Los Angeles CA 90015
September 8 – Movie: The Three Amigos / Music: PK
Northridge City Little League Park
18805 Devonshire St.
Northridge, CA 91324
September 15 – Movie: The Karate Kid / Music: So Many Wizards
Westwood Recreation Center
1350 South Sepulveda Blvd.
Los Angeles, CA 90025
*Venues, movies, music & food trucks subject to change – check http://www.eatseehear.com for possible updates to the schedule.
ABOUT TRAILHEAD MARKETING, INC.
Trailhead Marketing merges great ideas and sharp execution to create unique brand experiences. Through memorable stunts or events, new media, promotions that drive business, partnerships that expand reach and enhance brand perceptions, or fully integrated marketing programs featuring all these tactics and then some, Trailhead will guide brands down the path to reach their marketing goals. Recent clients include Showtime, Fiat, Skype and Hilton Hotels Worldwide.
ABOUT HOLLYWOOD OUTDOOR MOVIES
Hollywood Outdoor Movies is the leading outdoor screening production house with the largest outdoor movie screens in the Western United States and the only outdoor movie company utilizing dual 2k projectors combined to project a full High Definition 30,000 lumen image on a motion picture screen. Clients include NBC Universal, The Weinstein Company, BAFTA, AMC Theatres, Univision, Toyota, Fiat, Goldenvoice, Coachella, Harman, Reef and Etnies. HOM is the trusted source when Disney/Pixar produces an outdoor movie event. Parent company EAJ Media specializes in various forms of creative media.