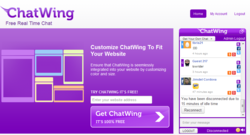 Boston, MA (PRWEB) August 20, 2012
Chatwing is the latest innovation in today's interactive online community. They have developed a chat software that will bring online interaction to a different level. Different websites now emerged in the social media. There are now group of bloggers from travel junkies, fashion bloggers, food lovers, tech savvy geeks to anime lovers and online gamers. With the launching of Chatwing chat box, these group of people can now interactively communicate with each other on a real time basis. Chatwing is free of charge and can be installed in a jiffy. You do not need to be a tech savvy to install this application. You can complete the registration is less than a minute. Once installed, you will be given a link that can be embedded to your website, and voila! Online interaction begins. Chatwing will work on any website that supports iframe. It is also compatible with different platforms like Tumblr, Blogspot, LiveJournal and Weebly.
There are different ways in signing in for Chatwing. Users may log in using their Facebook account, Twitter or some just prefer to be log in as guests. Those who prefer to log in as guest can create their own avatar, and those who logged in using their facebook/twitter account, their profile picture can be seen on the chatbox. This chat widget enables blog owners to reach out to their followers, and interact with them real time. This free live chat gives a whole new experience to users, followers, bloggers and forum owners.
Chatwing has the capacity to hold up to 1000+ users online, which can make conversations more interesting and informative. Also, users online may interact with each other real time! With this interactive tool, users can address queries of their readers, respond to their reactions and be thankful to the opinions and appreciations of their readers and visitors.
Given such number of users that the chatbox can accommodate, the admin has the ability to manage users using profane languages. Admin can also ban spammers. Not only that, the admin can delete live messages, turn off chat box, and even remove all messages. Finally, the admin can ban problematic individual users .
With this free shout box, people from around the world can easily communicate with each other, sharing the same passion, ideas and even hope in creating a global community online. These online communities produced fresh ideas and innovative concepts that will bring people closer. Some also used the chatwing shout box to discuss current events, entertainment to personal stuffs like hobbies, interests and the like.
Chatwing launches new features to make websites interactive. Users have the option to select from different types of chat boxes: embedded widget, pop-out window, or through the direct url feature. This chat widget can be seamlessly integrated to any website by customizing size, color and name of the widget.
Chatwing team is actively innovating upgrades and development to this chat software so that they can help making online communication more interactive and reliable. The development team aims to provide a wonderful experience to each users – both bloggers and readers.
Chatwing tirelessly creates chatbox that will enhance the way of communication through the internet. Creating a community of different races, from different places – improving the way we communicate not only with the people we see every day but now to people around the world regardless of color, gender or age.
About Chatwing
Chatwing.com specializes in the new field of website chat. Over years, the Chatwing team has introduced live chat box for hundreds and thousands of blogs. The Chatwing application bridges people from many parts of the world, creating global synergy through the Internet. The shout box can be installed in just seconds, and it can be used for varying purposes such as leisure and Internet marketing. It also allows a user to customize the size, color, and name of the widget. Chatwing is 100% free for everyone.