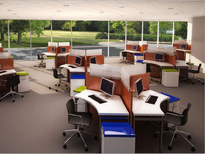 Align your business plan with your property plan and use day offices and meeting rooms when you need them
(PRWEB) August 22, 2012
This new room-booking tool from Your Office Agent is truly revolutionary ,as previously companies relied on their own meeting rooms or had to use hotel space and there was no possibility of ever being able to use a professional outsourced office space anywhere in the world for an hour or a day. The team at Your Office Agent are known for their expertise in providing alternative workplace solutions but this latest solution is the first of its kind in the US and gives the consumer global access to flexible space at their fingertips. The easy-to-use software app allows companies to book offices and meeting rooms all over the world in minutes.
In addition to the 4,000 meeting rooms that Your Office Agent added to their system last month a further 1,000 drop in office locations have now also been made live and more are being added everyday to make this system one of the biggest of its type in the world.
The app lets users book space from their mobile phone or tablet when working on the move. The one-click system also removes the language barriers that staff may face when they try to book meeting space or office in a different country. If any assistance is needed then one click of the mouse or phone call will summon help from a live agent.
The basic free service for Your Office Agent is an office and meeting room online search facility in the same way as Travelocity and Expedia do for Hotels but the more in-depth offering is a consultancy for working smarter and improving worklife balance for companies of all sizes. The solutions range from Hoteling, teleworking and mobile work styles to outsourcing of some or all of a companies office space needs. Some of their part time workplace solutions start from access to unlimited wireless internet and coffee in a professional environment for as little as $2 a day so everyone should know about this.
Brian Mac Mahon, VP of client solutions for Your Office Agent, comments: "the world of work has changed. Companies can no longer rely on meetings in hotel lobbies and working for the day in a local Starbucks. Neither were ever a practical or desirable solution but they used to be the only solution out there. Now, with the easy to use web portal on the Your office Agent website, any company immediately has instant access to an office network with thousands of office locations all over the world" Your Office Agent partner with the biggest executive suite and business meeting room providers in the world to provide a best in class solution everytime.
To find out how to get access to all the office locations visit the Your Office Agent website at http://www.yourofficeagent.com or email contact(at)yourofficeagent(dot)com or call 800 600 0881.