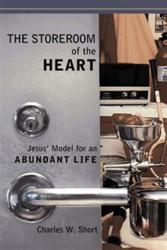 Fort Mohave, AZ (PRWEB) August 21, 2012
In his new book "The Storeroom of the Heart: Jesus' Model for an Abundant Life" (published by CrossBooks), Charles W. Short begins with a simple teaching from Jesus and presents it as a guiding principle to help Christians live a full and rewarding life.
During a careful reading of the Bible, Short was inspired by one particular passage. He points to a verse in the Gospel According to Matthew (12: 34-35), in which the heart is defined as a storeroom. "The Storeroom of the Heart" dissects the underlying principles behind this simple definition, and Short uses the discussion to urge readers toward a lifestyle that would unlock the fullest potential of their hearts and lives.
An excerpt from "The Storeroom of the Heart":
"Consider the baby carriage rolling toward the busy street. Which person do we want to be? Do we want to be the man who watches with amusement? Or would we rather be the one who dives after it to stop the crisis? If we want to be the second one, we must form the patterns of life which allowed him to have his heart shaped in this way. These two men did not have a chance to sit down and reason it all out morally. Instead, their reactions had to be instantaneous. Those actions that spill out of us so fast they can't be thought through reveal what we have stored in our hearts."
Combining scriptural analysis, a discussion of Christian principles, and a guide to living a Christian-focused life, "The Storeroom of the Heart" is a book which Short sees as incredibly unique compared to other Christian non-fiction and inspirational books. "'The Storeroom of the Heart' doesn't just speak to the need to repent, order your life better and attempt great things for God," explains Short. "This book explains how to accomplish these things. It also explains the ways the average person is sabotaging their own potential and how to stop."
About the Author
Charles W. Short earned a Bachelor of Arts from Grand Canyon College and Master of Divinity from Golden Gate Baptist Theological Seminary. Short serves as pastor of First Baptist Church in Fort Mohave, Ariz. He and his wife, Stephanie, have two children who are adopted out of foster care.
CrossBooks, a division of LifeWay Christian Resources of the Southern Baptist Convention, is a Christian publishing imprint committed to bringing more Christian voices into the publishing industry. Established authors, first-time authors, and authors anywhere in between can meet their goals and fulfill their vision for their books by publishing with CrossBooks. CrossBooks' innovative style of publishing blends the best of traditional and self-publishing. While our authors contribute monetarily to cover the cost of publishing, we maintain a strict moral and quality standard that every manuscript must meet for us to publish. For more information on publishing your Christian book with CrossBooks, log on to crossbooks.com or call 1-866-879-0502.
###