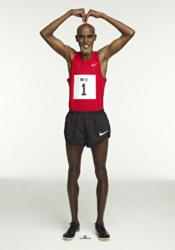 After delivering a stellar performance this summer, Mo has found a special place in all of our hearts and is a fully fledged national hero
London, UK (PRWEB UK) 20 August 2012
Virgin Media today announced it has signed a sponsorship deal with 5,000m and 10,000m champion Mo Farah.
Like Usain Bolt before him, Mo will don a Sir Richard Branson-esque blonde goatee beard in a print ad campaign which launches across a number of national newspapers on Saturday 18th.
Jeff Dodds, executive director of brand and marketing communications at Virgin Media, said: "After delivering a stellar performance this summer, Mo has found a special place in all of our hearts and is a fully fledged national hero.
"We're absolutely delighted to be working with him. Virgin Media is all about delivering brilliant entertainment, and nobody has got the nation cheering at their TVs more than Mo over the last couple of weeks. Like Mo, we are also obsessed with speed, particularly broadband speed. Mo will join our other sponsored athlete Usain Bolt in ensuring that we inspire the nation to 'Keep Up'."
Mo has become the latest Virgin Media brand ambassador, following in the footsteps of some of the biggest names in entertainment such as Stephen Fry, David Tennant, Samuel L. Jackson, Uma Thurman and, of course, Usain Bolt.
The world's fastest man, Usain Bolt, returns to TV screens tonight for Virgin Media. As the face of the company's first major marketing campaign of 2012 in January, Bolt let Virgin Broadband customers know the great news that their broadband speeds were going to increased over the coming months.
Both this new execution, which breaks on primetime ITV1 during X-Factor Saturday night, as well as the ads starring Mo Farah, will remind people that Virgin Media is busy doing its own double – doubling broadband speeds.
The Mo Farah campaign was created by BBH, with all media planning and buying handled by Fifty6.
About Virgin Media
Virgin Media is the first provider of all four broadband, TV, mobile phone and home phone services in the UK.
The company's cable network – the result of a multi-billion pound private investment – delivers ultrafast broadband connections to over half of all UK homes, with speeds of up to 100Mb, and is being expanded to reach thousands more people across the country.
Virgin Media has developed the most advanced interactive television service, bringing together broadcast TV, thousands of hours of on demand programming and the best of the web in a single set-top box powered by TiVo. The company was the first to offer DTV and 3D on demand to millions of UK households.
Virgin Media also operates the most popular virtual mobile network in the UK which, when launched, was the world's first such mobile phone service. It is also one of the largest fixed-line home phone providers in the country.