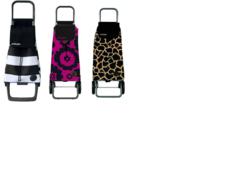 With over 70 different colour and fabric combinations
Kent (PRWEB UK) 22 August 2012
Gone are the days when shopping trolleys look like Zimmer frames. Rolser has revolutionised this idea by introducing trolleys that are trendy looking and smart to use. These bags can be hooked on to supermarket trolleys and can be folded away for easy storage. With over 70 different colour and fabric combinations, the brand gives a wide choice for any one wanting one of these trendy trolleys. The bold prints pull away out of boring zone and step right into fashion and style.
Offering ease of use with its new rotating wheels and also the option of 4 or 6 wheels, there isn't a problem in moving around with these filled with travelling items. Of course, the preference is available to have the traditional look as Rolser understands not everyone would wish to be trendy looking;however, there is certainly no compromise in quality and ease of use in any of these bags.
Trina Chee-a-kwai, Marketing Executive at Luggage Superstore comments on the eco-friendly flip of owning one of these trolleys: - "With everyone conscious of how they can help save the environment these days, owning one of these trolleys to store grocery shopping would certainly save on using non recyclable plastic carrier bags-what a way to do your part too.."
The Rolser trolley is guaranteed to give miles and miles as of travel from the high street, to the mall, to work, to school or wherever it is taken as a constant helping companion.
Luggage Superstore established site is in West Kingsdown, Kent. Their aim is providing competitive prices of the highest quality luggage and top calibre Customer Service for online luggage shopping.
Trina Chee-a-kwai
Luggage Superstore
01474 854666
Email information