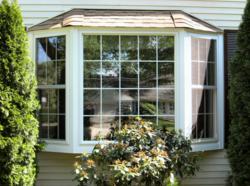 Buyers are concerned about appearance of their windows as well as energy efficiency as they plan to stay in their home much longer than they originally thought.
- Rick Jones, CEO, Stanek Windows
Cleveland, OH (PRWEB) August 22, 2012
Stanek Windows, a window and door company headquartered in Cleveland, Ohio, is experiencing a new trend in window and door replacement. Homeowners are replacing windows and doors with new designs, only doing a window or a room at a time, while budgeting home improvement ideas over many years.
Beginning in 2006 and spreading across the country by 2008, home ownership had incurred a huge compression. There are over-built regions of the country, more than two million homes in foreclosure, and a general consensus that homes have devalued. However the majority of homeowners in "Middle America" are not in jeopardy of losing their homes. They maintained some form of stability before these turbulent economic times as they did not over extend their home ownership costs so when the economy dropped they are not underwater, that is the home value less than the lowered evaluation of the home.
The marketing executives that follow window sales saw 2006 as the peak of new window purchases for new construction, window replacement and home remodeling that included replacement windows and patio doors. There was a severe drop in window purchases until 2009-2010 when the United States Government increased Energy Tax Credits for a variety of home products including windows, doors and insulated siding as well as a host of other energy saving options.
Yet there are numerous homes now that require new windows and doors to be replaced. Existing products leak air into the house. Many of these homes have windows that are unsightly as they are rotting and falling apart. The owners' energy costs for cooling and heating are higher than those with properly installed energy efficient new replacement windows. According to Stanek Windows, the tax credit program may be gone however the problem remains.
"We have offered one-room-at-a-time services to our customers for many years now," says Rick Jones, President of Stanek Windows with branch sales offices in Cleveland, Milwaukee and Tampa. "There are more consumers thinking that way than a few years ago. We understand that it allows them to pay as they go instead of financing. Even though home equity loans through community banks are at a low point, consumers are reluctant to add debt. This is probably the best time to buy since 2005 or 2010 when demand was at its highest. Our three locations have maintained skilled labor to make and install our windows."
Homes still are a major investment for many people whether it is their primary home, a second home or rental property. A home with attractive, energy efficient windows and doors add beauty to the property and increase investment value.
"Buyers are concerned about appearance as well as energy as they plan to stay in place now after many years of thinking the current home would be sold in a few years. The thinking among home owners in the 80's, 90's and new millennium was their present home was temporary. They planned to buy larger homes as family structures changed and jobs changed," continued Jones. "The average home ownership was 8 to 10 years during those decades."
When considering a purchase, Stanek Windows recommends that consumers think about window design along with exterior and interior trim to change the appearance of the house or an individual room. A quality window and door company is prepared to help with these type of decisions. They employ finish carpenters that specialize in custom detail work. Their staff can offer suggestions and work with homeowners to supply new exterior colors, interior woodgrains to complement furnishings, and add distinction to a favorite room – one window or door at a time.
Windows with plain interior can become a focal point by changing interior window moldings or adding interior trim if there is none present. Many interior decorators on popular home channels will recommend new trim work to coordinate with new décor.
"If you plan to stay where you are your home truly will be your once in a lifetime castle. Window or door changes make the home a nice place to look at while reducing energy costs and outside noise," concluded Jones.
# # #
ABOUT STANEK WINDOWS
Stanek Windows serves Western Florida, Northeast Ohio and South-Eastern Wisconsin with offices in Tampa/Clearwater, Florida, Cleveland, Ohio and Milwaukee, Wisconsin. The company offers a full line of energy-efficient windows, patio doors and exterior doors, as well as, siding, hurricane shutters and gutter systems. All Stanek Windows are independently tested and certified to area building codes, including impact windows for the strongest Florida hurricane-rated codes. For more information, contact Stanek Windows at 800-4-STANEK or visit StanekWindows.com.