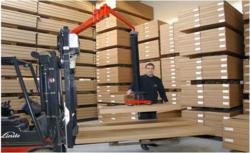 CAUTION: Lift Safely!
Douglassville, PA (PRWEB) August 22, 2012
Vacuum Lifters and Manipulators can lift objects weighing a few pounds to several tons. Their smooth action, with pads designed for specific applications, makes them easy to operate increasing efficiency and reducing the labor costs associated with production, lead and delivery time. Vacuum lifters be can be free-standing or attached to a forklift truck and reduce the time spent loading boxes, pails, drums, sheets of material, kegs, and barrels to a pallet; while ensuring the safety of the operator and load. Using vacuum power can considerably reduce the number of injuries suffered on the job.
American Crane & Equipment Corporation is located in Douglassville, Pennsylvania approximately 45 miles west of Philadelphia. This overhead lifting company is known for tackling unique "critical lift" applications and specializes in engineered products for aerospace, commercial nuclear, DOE nuclear, and automated systems industries. American Crane sells spare parts, manufactures standard and custom equipment, and also performs on-site equipment inspections, repairs, retrofits, and maintenance.
From complex custom overhead lifting equipment to standard equipment, components and parts, American Crane can meet all your material handling needs, large or small. For more information on our AL-Vac products visit us online at AmericanCrane.com/AL-Vac, contact Thomas Benfield at tbenfield(at)americancrane(dot)com (1-877-503-2972 Ext. 158) or visit our homepage at http://www.americancrane.com.
# # #