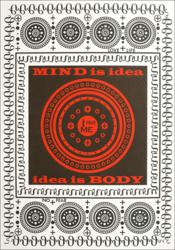 Brooklyn, NY (PRWEB) August 22, 2012
As a designer, PD Packard has developed original textile designs and products for well known companies and department stores such as Estée Lauder, Prescriptives, Revlon, Barneys, Bergdorf Goodman, and Henri Bendel. The required computer skills used by today's designer has benefited Packard's natural transition into fine art print making and is one of the many reasons her elaborately hand-bound accordion book, the HUMAN CONDITION, has been included in the print exhibit "BOUNDLESS unlimited graphics" in Amsterdam this September.
BOUNDLESS unlimited graphics, September 6 - October 19, is an initiative by the Amsterdam Graphic Studio in collaboration with the CBK Amsterdam Gallery. The BOUNDLESS concept originated at the Central Print Council of Aotearoa in New Zealand. Crossing the boundaries of traditional two-dimensional printing that is usually intended to be framed and displayed on the wall, the exhibit will focus on the influence of new technological developments in fine art printmaking. Packard's laser cut plexi printing plates used to create the text in her book, the HUMAN CONDITION, is one example of new technology being used in printmaking today that will be shown in the exhibit. Other contemporary methods of printmaking included in the BOUNDLESS show that create surprising new results are 3D printing, digital photography, glass printing, and even ceramics. The program for the duration of the BOUNDLESS exhibit is quite extensive and includes artist talks, lectures, workshops and performances. An additional weekend exhibit of the work of 35 book artists will be held at the Amsterdam Graphic Studio, September 21-23.
While participating in the Parallax Art Fair NYC this past August, Packard met fellow exhibiting artist Seth Apter, blog writer and author of the book, "The Pulse of Mixed Media: Secrets and Passions of 100 Artists Revealed." Sharing a mutual appreciation for each other's work, Apter invited Packard to be a Spotlight Artist in his second book, Pulse2, to be released December 2013 by Northern Light Books, part of F+W Media. The premise of the book is to "take the pulse of the community of artists whose work cuts across all the different approaches to mixed media art." Packard has been asked to create two new pieces of artwork specifically for Apter's new book that will provide an open door into her creative state of consciousness.
In addition to Packard's website, an on-line profile of her work can be found on ArtSlant, considered the #1 contemporary art network on a city-by-city basis to the web. Several of Packard's works have been selected as a winner in ArtSlant's Showcase Series competitions that attracts approximately 700-800 artists from all over the world in all mediums. In July, Packard was selected as one of the top 10 artists from the 4th Showcase Series 2012 for her piece MIND is idea + idea is BODY. As a Juried Select Winner, Packard's work will go into the final competition for the ArtSlant Prize exhibition and cash awards.
BOUNDLESS unlimited graphics
September 6 – October 19, 2012
CBK Amsterdam Gallery
Oranje-Vrijstaatkade 71,
1093 KS Amsterdam
tel 020 253 5456