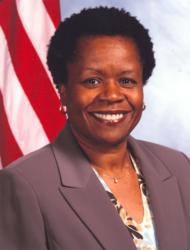 My way of giving back is to take care of the under-served, to pay attention to those who need it most.
Nashville, TN (PRWEB) August 21, 2012
Corrections Corporation of America (CCA), America's leader in partnership corrections, is proud to announce that Kim White has joined the team as the new managing director of Inmate Programs. With more than 30 years of industry experience, White will bring fresh and innovative ideas to both the company and the field of inmate rehabilitation and reentry programming.
"Ms. White has a strong passion for helping inmates build better lives and creating programs that will contribute to their development," said Harley G. Lappin, CCA's Chief Corrections Officer. "This passion will be reflected in her work at CCA and we are excited to see her impact on the department."
White will be overseeing CCA's Inmate Programming department, which offers recidivism-reducing programs and helps prepare inmates for a successful life upon release. The department develops and offers a variety of rehabilitation programs and resources across CCA's system of more than 60 correctional and detention facilities nationwide. Programs address the unique needs of the inmate population, including addictions treatment, education courses, vocational trades and faith-based programs.
White most recently served as assistant director of the Human Resources Management Division for the Federal Bureau of Prisons (BOP). She began her career as a correctional officer and over the years has ascended the ranks including nearly seven years as a Regional Director. Her interests in the corrections industry stems from a course she completed in college on correctional institutions, which led to an internship with the BOP. White also holds a degree from Kent State University and completed Harvard University's Executive Education Program for senior managers in government.
"What attracted me to the field of corrections so many years ago was my hunger to make a difference in the world," said White. "My way of giving back is to take care of the under-served, to pay attention to those who need it most."
White has had a significant impact among the inmates she's worked with. One success story she proudly tells involves a Vietnam veteran who was an inmate at one of her facilities. White encouraged the man to join the Toastmasters International group, a program that promotes public speaking and leadership skills. His participation in the group, guided by White, led to a complete transformation for the vet.
"Kim has proven to be an industry leader and we are thrilled that she is be bringing that energy and enthusiasm to our team," said Lappin.
About CCA
CCA is the nation's largest provider of partnership corrections to federal, state and local government, operating more than 60 facilities, including more than 40 company-owned facilities, with approximately 90,000 beds, in 19 states and the District of Columbia. In addition to providing the residential services for inmates, CCA facilities offer rehabilitation and educational programs, including education, vocation, religious services, life skills and employment training and substance abuse treatment. For more, visit: http://www.cca.com and http://www.ccacommunities.com.