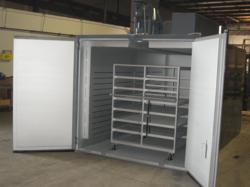 "We proudly engineer our industrial batch ovens to the highest standards and give you the exact product you need at the price you need. That's why nobody beats Benko."
Sheffield Village, OH (PRWEB) August 28, 2012
Benko Products, Inc., a leading innovator in material handling and safety products, announces that its Sahara Batch Ovens with roll-in carts maintain superior temperature control and uniformity for drying or curing. The Sahara Batch Ovens, designed for ease of use and reliable performance in the harshest environments, are the ideal solution for curing or drying small parts in the chemical, plastics and automotive industries, to name a few.
The Sahara Batch Ovens, which comply with National Fire Protection Association (NFPA) 86 safety standards for Class A ovens that heat flammable materials, are electrically heated to maintain 350°F and provide cross-flow air circulation, which allows the ovens to maintain temperature control and uniformity. Roll-in carts feature removable and adjustable shelves to support varying loads, as well as heavy-duty casters and wheel guide tracks for easy maneuvering.
Precise temperature control is achieved through the ovens' unique controls system, which includes a thermocouple actuated, digital temperature controller; motor control pushbuttons; ON-OFF heat switch; LED pilot lights; and adjustable over-temperature control. Available in carbon steel or stainless steel, the Sahara Batch Ovens are available in a variety of air-flow patterns to suit an end-user's specific needs.
"We custom-build each industrial batch oven to our customers specifications because there is no standard size that is universal to everyone. Each need is unique," said John Benko, President of Benko Products. "We proudly engineer our industrial batch ovens to the highest standards and give you the exact product you need at the price you need. That's why nobody beats Benko."
Benko Products has been manufacturing the Sahara Batch Oven for over 25 years and have thousands of ovens successfully operating in the field today. A two-year warranty is offered as well. For more information on the Sahara Batch Oven, contact Benko Products, Inc. at (440) 934-2180 or go to http://www.benkoproducts.com.