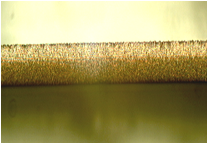 The IX-6100-MD can be configured by JPSA with a range of lasers and options to optimize production performance...
Manchester, NH (PRWEB) August 21, 2012
J P Sercel Associates (JPSA), a leading supplier of laser micromachining tools, announces the release of the IX-6100-MD for scribing and dicing metal layers such as: Mo, Cu, Ni, Au, Ag, Zn, and their alloys used in the LED manufacturing process. The IX-6100-MD is equipped with JPSA's latest proprietary vision and scribe placement technology allowing reduction in die street size and enabling more LED die per wafer.
JPSA will be shipping several IX-6100-MD laser systems in Q3 to a leading LED manufacture in Asia where the systems will be utilized for singulation of high-power LED devices that use the metal substrate to assist in LED heat dissipation. The IX-6100-MD was selected because of the high-throughput, increased die yield and low cost of ownership of the system.
The key technology in IX-6100-MD is JPSA's proprietary beam delivery system that allows the shape of the laser beam to be independently adjusted in two dimensions. This allows for optimization of laser energy used for cutting and enables a minimal kerf width of 20µm to be achieved while minimizing the heat affected zone.
In making the announcement, JPSA's CEO Jeffrey Sercel, said, "The IX-6100-MD combines JPSA's proprietary scribing technique with laser processes designed to achieve full singulation of metal devices. The IX-6100-MD can be configured by JPSA with a range of lasers and options to optimize production performance for each customer's specific material combinations."
The IX-6100 series of micromachining systems can be equipped with JPSA's IAP (Integrated Automation Platform) for automated wafer handling in production environments. The IX-6100 is similar to the company's IX-6600 platform that is the industry-standard tool used for laser lift-off (LLO) of LED devices in an associated manufacturing process.
JPSA products and services include UV excimer, DPSS and ultra-fast laser micromachining systems, UV and VUV laser beam delivery systems, laser materials processing development, optical damage testing, and excimer laser refurbishment services. JPSA operates a high-performance laser job shop as well as a systems engineering and manufacturing business. For more information, visit http://www.jpsalaser.com, or contact the company at 220 Hackett Hill Road, Manchester, NH, 03102 USA; Tel. 603.518.3200, Fax 603.518.3298.