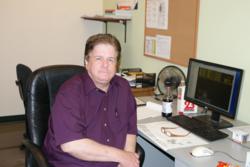 We are pleased to have Randy join Rentapen. He brings with him a wealth of knowledge and skill that only adds to what we can offer our customer
Waukesha, WI (PRWEB) August 23, 2012
Rentapen, a machine design company that specializes in weld fixture design is pleased to announce the addition of Randall McAloon to Rentapen's design engineering team. McAloon a machine design engineer started August 8th 2012.
McAloon has a Bachelors Degree in Mechanical Engineering from the University of Wisconsin-Madison. He has over 30 years of experience in machine design and designing weld fixtures. McAloon will be part of Rentapen's team of design engineers as they help manufacturers reduce costs through excellence in machine design. Rentapen's design engineers continue to serve customers such as John Deere and Cobb Tool.
Rentapen helps manufacturers tool up their factories to produce new products by designing and building weld fixtures. These weld fixtures hold the manufacturers product parts in just the precise location so it can be welded together and then fit with all the other parts in their tractor, mower, motorcycle or other product.
"We are pleased to have Randy join Rentapen. He brings with him a wealth of knowledge and skill that only adds to what we can offer our customers," said Susan Straley, President of Rentapen Inc.
Not only will McAloon be helping design weld fixtures at Rentapen, but he will oversee the Growing Machine Design Engineers Program™ at Rentapen. A system of training new Engineers and CAD Interns as Rentapen grows.
McAloon has designed automated machinery, including automated assembly machines, packaging machines, and work holding fixtures for CNC Machinery.
McAloon spent years as a Design Center Manager and Engineering Manager. He carries vast experience as a Project Engineer and Project Manager.
Rentapen's Mission: Rentapen provides jobs, training, and opportunities for people who work together to help manufacturers reduce the costs of tooling to make their products.