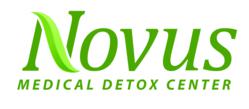 Our dedicated team has earned a reputation for achieving results, and for treating each patient as an individual
New Port Richey, FL (PRWEB) August 20, 2012
With recent news reports indicating heroin use is on the rise, Novus Medical Detox Director Kirk Burness affirms the Center's commitment and ability to treat opiate withdrawal, including high-dosage heroin cases. Novus provides medically supervised detox programs in a residential, in-patient facility on Florida's Gulf Coast.
WFTV of Orlando reports that Florida's new prescription pill database and the crackdown on pain pill distribution on the streets of Orange County have contributed to a rise in heroin use within the area.(1) This development reflects a growing national trend. According to NBC News, "New regulations and law enforcement efforts have significantly reduced the supply of [prescription painkillers] … those efforts have inadvertently driven many users to another type of opiate that is cheap, powerful and perhaps even more destructive – heroin."(2)
"When prescription pill users switch to heroin, most are unfamiliar with the dosage of the new drug, and they may quickly find themselves taking extremely elevated doses to attain their high, which puts them at increased risk of an overdose. It can also make their withdrawal symptoms more severe, which is why many detox centers refuse to treat high-dose heroin users," said Burness. "At Novus, we have the experience and expertise to treat high-dosage cases that other detox facilities can't handle. I'm proud of our center's track record of successful treatment, and our ability to take on even the toughest cases."
While heroin may prove to be cheap and readily available, Burness cautions that it is also highly addictive and rapidly acting. The U.S. Department of Justice notes that overdoses can occur whether users snort, smoke or inject the drug, and may result in slow and shallow breathing, convulsions, coma or even death.(3) Those who inject heroin are also at risk for blood-borne viruses such as HIV and hepatitis B and C, as well as scarred or collapsed veins, infection of the heart lining and valves, abscesses, pneumonia, tuberculosis, and liver and kidney disease.(4)
Heroin users seeking treatment can safely withdraw from the drug through the in-patient detox programs offered by Novus. Patients undergo a gradual withdrawal process under 24/7 medical supervision. Novus does not use methadone or other prescription drugs, because, as Burness explains, "We don't want to replace one drug with another, which keeps users in the trap of opiate addiction and continued drug dependency." Instead, Novus administers IVs to rehydrate and replenish the nutrients, amino acids and minerals depleted by the heroin. The center also provides natural supplements and medications, as needed, to help the body recover and strengthen.
"We help patients safely and comfortably withdraw from their addiction, and we are committed to their success. Our dedicated team has earned a reputation for achieving results, and for treating each patient as an individual," Burness added. "We understand that overcoming addiction is a process, so when patients complete their withdrawal, we'll help them find the rehabilitation program that's right for them, and help them make the transition from detox to rehab."
To learn more about the Novus Medical Detox Center and its heroin addiction and detox programs, visit http://www.NovusDetox.com.
About Novus Medical Detox Center
Novus Medical Detox Center offers safe, effective alcohol and drug treatment programs in a home-like residential setting. Located on 3.25 tree-lined acres in New Port Richey, Fla., Novus is licensed by the Florida Department of Children and Families as an in-patient medical detox facility. Novus is known for minimizing the discomfort of withdrawal from prescription medication, drugs and alcohol by creating a customized detox program for each patient, incorporating medication, natural supplements and fluid replenishment – putting dignity and humanity back into drug detoxification. Patients have 24/7 medical supervision, including round-the-clock nursing care and access to a withdrawal specialist, and enjoy comfortable private or shared rooms with a telephone, television, DVD player and high-speed Internet access. For more information on Novus Medical Detox Center, please visit http://www.NovusDetox.com.
1 "Drug users apparently turning to heroin after pill crackdown." WFTV.com. June 19, 2012. http://www.wftv.com/news/news/local/drug-users-apparently-turning-heroin-after-pill-cr/nPZYW
2 Riordan Seville, Lisa and Hannah Rappleye. "Crackdown on painkiller abuse fuels new wave of heroin addiction." NBC News. June 7, 2012. openchannel.msnbc.msn.com/_news/2012/06/07/12091096-crackdown-on-painkiller-abuse-fuels-new-wave-of-heroin-addiction
3, 4 "Heroin Fast Facts." U.S. Department of Justice. Archived web page accessed online July 5, 2012. http://www.justice.gov/archive/ndic/pubs3/3843