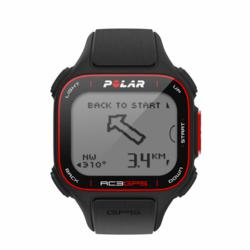 "The RC3 by Polar will be well suited to running, cycling, cross-country skiing, mountain biking, in-line skating, downriver boating and virtually any outdoor sport you want to measure speed, distance and heart rate data for
Bozeman, MT (PRWEB) August 20, 2012
The new Polar RC3 was announced last week as Polar's first fully integrated GPS watch according to the Heart Rate Watch Company. Polar is the inventor of the heart rate monitor and the oldest heart rate monitor manufacturer dating back top 1977.
"The RC3 by Polar will be well suited to running, cycling, cross-country skiing, mountain biking, in-line skating, downriver boating and virtually any outdoor sport you want to measure speed, distance and heart rate data for", says Rusty Squire, President of the Heart Rate Watch Company. He adds, "It will also work great at the gym in without GPS mode for those that cross over into the gym for the winter months".
Much like the Garmin Forerunner 610, the Polar RC3 offers IPX7 water resistance, which means up to 3 feet of water for 30 minutes. "This is why it is fine to wear it in the shower and will work in a rain storm, but it is not well suited to triathlon", says Squire.
The Polar RC3 also works with a wide variety of Polar sensors including the S3+ foot pod plus the WIND bike speed and cadence sensors to offer a more diverse level of metrics for users.
"Polar RC3 offers 7 different screen views per sport and the sport icon screens can be customized depending upon the sport", says Squire. He adds, "These screens include speed, distance and heart rate, the ZonePointer and several other popular Polar screen views to select from."
Polar RC3 also includes the fitness test, however it does lack a barometric altimeter like the Garmin Forerunner 910XT and also will not interface with ANT+ sensors like bike power meters as Polar does not support ANT+.
"This is the lightest and thinnest GPS watch ever made which should thrill those who have had a hard time adapting to GPS due to size or weight issues", says Squire. He adds, "It also has a 13 hour battery life between charges which surpasses all but the biggest long course triathlon and adventure watches".
The Polar RC3 GPS watch is due out in late September to Early October of 2012.