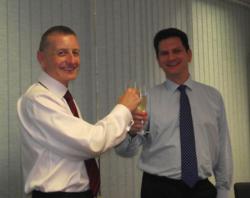 I would like to congratulate everyone at Skillweb on the launch of the new product that has the potential to increase productivity for care workers and others who operate in a mobile environment.
High Wycombe, Buckinghamshire (PRWEB UK) 21 August 2012
Skillweb, the mobile computing solutions provider, has launched its SmartTask Attend tool for Android operating systems. As a result, organisations operating mobile workforces can now get all the benefits of the proof of attendance and call monitoring tool on a wider range of mobile devices including the increasingly more cost effective Android Smartphones that are emerging onto the market.
Already available on Blackberry App World, private and public sector organisations can now trial the application for 30 days on Google Play, before making the decision to adopt the technology for their worker's Android devices. Since its launch the time and attendance tracking tool has been used by a range of companies, including care providers, security operators and service management businesses, to improve workforce management, organisational efficiency, data transparency and data collection.
SmartTask Attend uses the latest Near Field Communication (NFC) or RFID attendance software on a mobile phone to allow mobile workers to simply swipe their phones over unique tags, NFC tags or QR Codes® placed at locations or on equipment to record attendance in real time. This enables organisations to record the time and departure of each operative in real-time to ensure all appointments are being met and carried out.
Paul Ridden, Managing Director of Skillweb, commented: "The launch of the SmartTask Attend product on to the Google Play store is another step in our strategy to bring a cost effective proof of attendance and electronic call monitoring solution to mobile teams where previously the entry cost was too high. Our customers can make use of the increasingly more cost effective Android Smartphones emerging onto the market to capture attendance data and communicate it back to a central administration team.
"The solution is designed to reduce the time spent capturing location and attendance data where fixed systems are not viable and to drive down the cost of collating time sheets and visit reports."
The Android version of SmartTask Attend was launched by Steve Baker, MP for High Wycombe, who commented: "I would like to congratulate everyone at Skillweb on the launch of the new product that has the potential to increase productivity for care workers and others who operate in a mobile environment. I wish them every success in the future helping private and public organisations to improve business and operational processes."