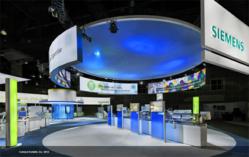 Pleasant Prairie, WI (PRWEB) August 21, 2012
Catalyst Exhibits, Inc., a global trade show exhibit design firm, today announced another successful collaboration with Siemens at the American Association of Clinical Chemistry's Annual Meeting and Clinical Lab Expo in Los Angeles, CA held July 17th to 19th.
The Catalyst designed exhibit – themed "Innovation. Powered by You." gave attendees an opportunity to explore the company's broad spectrum of products and get a first-hand look at its groundbreaking laboratory automation platform. To achieve Siemens' objective of showcasing their innovative new range of products and services, Catalyst created an eye-catching 90-foot by 110-foot exhibit space that incorporated in-booth presentations and workshops, interactive touch screens, and an overall emphasis on hands-on interactions.
The centerpiece of the exhibit space was Siemens' new laboratory automation system, Aptio Automation, a next-generation solution that makes possible seamless testing and information flow in the laboratory. The booth also demonstrated the company's new line of instruments and assays that are designed to positively impact patient care through increased testing accuracy and timeliness.
Catalyst Exhibits, Inc. is a global exhibit company offering a range of trade show exhibit solutions guided by the client's underlying marketing strategy. Headquartered in Pleasant Prairie, Wisconsin, with offices in San Francisco, Amsterdam and Shanghai, Catalyst Exhibits, Inc. employs a collection of skilled designers and associates ready to showcase your organization to the world.
Get connected with Catalyst at http://www.catalystexhibit.com