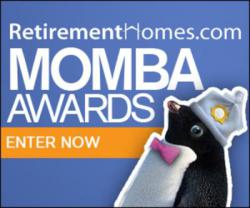 (PRWEB) August 21, 2012
Attention senior living communities: You have less than a week left to enter the MOMBA Awards!
Presented by RetirementHomes.com, North America's most popular online senior living directory & resource, the MOMBA Awards recognize the most creative and original programs used by senior living communities.
The competition is open to senior living communities worldwide. You can enter multiple categories. There is no cost to enter.
The 10 categories are:
Best Traditional Advertising Campaign
Best Website
Best Internal Resident Communication
Best Event Marketing
Best Move-in Specials and Promotions
Best Resident Events and Trips
Best Resident Amenities
Best Social Media Presence or Campaign
Best Brand and Brand Management
Judge's Choice
The deadline for submissions is August 26, 2012 at 11:59pm ET. Thereafter, our panel of expert judges will determine the finalists, and then the general public will vote on the winners.
To enter, visit http://www.RetirementHomes.com/MOMBA
Winners receive customized trophies and excellent marketing exposure, as well as free bragging rights and an exclusive reception.
If you have further questions, contact:
Robert Walker, Brand Manager.
robert-at-retirementhomes.com
1-888-544-9124 x. 243
This press release was distributed through PR Web by Human Resources Marketer (SeniorCare Marketer: http://www.seniorcaremarketer.com) on behalf of the company listed above.