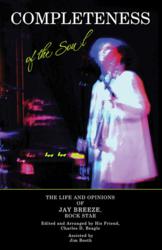 "Jim . . . [has] found a unique way to illuminate the interior voice of fame." - Don Dixon
Plano, TX (PRWEB) August 21, 2012
Record producer, composer, and performer Don Dixon on COMPLETENESS OF THE SOUL:
"Jim seems to have found a unique way to illuminate the interior voice of fame. A way to convey the restless, active, eternally adolescent mind of an aging rock star. A way to convey the pros and cons of walking the tightrope of celebrity while offering an accurate glimpse into the heart of that life."
About the Book:
Like other rock stars before him, Jay Breeze has been relegated to "the dustbin of history." Consigned there even before his car hit a tree, Jay's reality was fan-dictated: the embodiment of a past that "the future thought it was." His literary executor, Charlie Beagle, journalism professor, Rolling Stone contributing editor, and former bandmate, retrieves the scraps—what seems the detritus of his friend's life—and composes the ballad of Jay Breeze, Rock Star. Bridging audience and artist, persona and man, musician and muse, reader and unflinchingly rendered character, Beagle arranges Jay's woeful, passionate lyrics into a haunting, heartbreaking song.
About the Author:
Jim Booth is a North Carolina native with two books (The New Southern Gentleman and Morte D'Eden, or Tom Sawyer Meets the Rolling Stones) to his name. A former touring rock musician, he currently operates his own independent record label, Goat Boy Records. Jim is also a fiction writer with stories in journals ranging from StorySouth to Dead Mule to Pig Iron Malt to Dew on the Kudzu, and serves as fiction editor for Scholars and Rogues Literary Magazine, the literary arm of the national blog Scholars and Rogues. Jim holds bachelor and master's degrees from UNC Greensboro and a doctorate in writing and the teaching of writing from the University at Albany (SUNY). He is a consultant in writing pedagogy and an English professor at the University of Maryland University College.
About the Cover Artist:
Lea Booth is a visual artist born in Winston-Salem, North Carolina, currently residing in the mountains of her home state. Reliance on individual vision and technique, her work varies in detail, media, and subject matter. Her paintings and photography have been exhibited in local and regional galleries, cafes, and businesses and published in literary journals. She currently has an international web presence via Lea Booth - Galleries.
About the Publisher:
Founded in 2011 and producing six titles a year, Dallas-based Queen's Ferry Press specializes in publishing collections of fine literary fiction. Forthcoming authors include The Missouri Review managing editor Michael Nye and Wigleaf editor Scott Garson. Find us at http://www.queensferrypress.com; for additional information, please contact publisher (at) queensferrypress (dot) com.
Jim Booth will be appearing at On the Same Page, Ashe County's Literary Festival; September 12-15. [http://www.onthesamepagefestival.org/sample-page/schedule/ Additional appearances will be announced on the Queen's Ferry website.