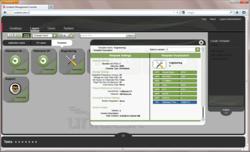 Unidesk is 'the missing piece of the VDI puzzle' because it provides 'a single pane of glass' for managing diverse desktop configurations across engineering, community, corporate, and environmental services users.
Marlborough, MA (PRWEB) August 21, 2012
New Zealand local government South Taranaki District Council is proving that Virtual Desktop Infrastructure(VDI) projects can be simple, fast and cost-effective with the deployment of a new council-wide initiative that relies on Unidesk® desktop layering technology and VMware View™ to deliver rich, personalized virtual desktops in record time -- typically less than 15 minutes per desktop. The council estimates its Unidesk-managed VDI implementation will save 375 person-hours on an annualized basis by reducing the time needed to provision and maintain Microsoft Windows 7 desktops and specialty applications. The council's move to zero and thin clients is expected to save $700 to $900 over the lifespan of each desktop device, while the lower energy consumption compared to full-size PCs will provide further cost reductions once all PCs have been replaced.
South Taranaki District Council, recently named one of New Zealand's best places to work, is one of 72 Local Authorities nationwide and the first to successfully implement virtual desktops with the aid of Unidesk. Until now, VDI rollouts in New Zealand local government have been limited by application delivery and image management inefficiencies and the inability to support end user requirements for desktop personalization. Unidesk is launching Unidesk 2.0 this week and will be showcasing the new version at VMworld 2012 next week in San Francisco (see today's companion press release Unidesk to Launch Unidesk 2.0 at VMworld 2012 -- the Only Way to Bring Full Desktop Layering to Citrix XenDesktop and VMware View Gets Even Better).
The council's Information Technology Manager Pete Sayers says Unidesk is "the missing piece of the VDI puzzle" because it provides "a single pane of glass" for managing diverse desktop configurations across engineering, community, corporate, and environmental services users. With Unidesk layering technology, the council's IT staff can create storage-efficient persistent desktops that sustain all user settings, documents, and user-installed applications -- all from a single Windows 7 gold image and single instances of their specialty applications.
"Before Unidesk, we were faced with the alternative of combining five or six different VDI management tools whilst still being unable to support full personalization," Sayers said. "The stateless, non-persistent desktops we initially tested were not a good fit for our highly personalized environment, plus, they were too hard to manage. Unidesk's clean interface and no-fuss method of layering applications is much easier than application virtualization, and the persistent desktops that Unidesk builds from common layers preserves our users' configurations, including user-installed apps."
South Taranaki District Council's VDI Journey
South Taranaki District Council employees are located in six town service centers, as well as numerous remote sites based around the district. Provisioning, patching, updating, and troubleshooting employee PCs spread out across the district's 358,000 hectares was consuming too much of the IT organization's time and resources. In an effort to simplify desktop operations, the council launched its VDI initiative in February 2012, electing to build on its VMware vSphere® virtualization infrastructure with VMware View desktop virtualization software hosted on Hewlett Packard Blade Servers with a P6500 class SAN on a 10Gb network. The initial VMware View pilot showed promise, but challenges with desktop persistence and application delivery held back the council's move to production.
Commented Sayers, "With VMware View, we could publish a desktop to the user quickly, but we had great troubles retaining each user's customizations because of the non-persistent requirement of linked clones. We had no way to preserve user-installed applications with VMware's persona tool, and our many departmental applications needed by small numbers of council users were taking too long to virtualize with Microsoft App-V. We investigated other persona management options, but found Unidesk offers so much more by letting us layer all the components of the desktop -- applications, user settings and the operating system."
Since implementing Unidesk with VMware View, the council has been able to move from zero to 35% desktop virtualization, including upgrading to Windows 7 and Microsoft Office 2010, in just a few weeks. More importantly, the IT department has more control over the desktop environment than ever before, while users have greater freedom to run their applications and desktops as desired.
The council has also realized measurable ROI in the short time that Unidesk has been in production:

Building a single employee's Windows PC running Microsoft Office and a variety of productivity, specialty and local government applications previously required two to four hours. With Unidesk-managed VDI, it now takes less than 15 minutes.
Handling maintenance and break/fix issues across remote sites usually necessitated an hour-long round trip in addition to time on-site to diagnose and repair problems. With Unidesk-managed VDI, the IT staff simply rolls the user layer back to a previous snapshot or selects an earlier Windows or application layer version to resolve the problem in less than 10 minutes.
Previously, 90% of IT staff time was spent on reactive support, less than 10% on research and development, and no time on end user education. With Unidesk-managed VDI, 40% of IT staff time is spent on support and proactive user solutions, 30% on research and development, and 30% on end user education.
"Our message to other organizations is that VDI, when properly managed and delivered without compromise, can take you from a technology-focused, reactive staff to a proactive, people-focused team where innovation and freedom are the new norm," said Sayers. "Unidesk has been the critical technology enabler for us to achieve this."
About Unidesk
Unidesk Corporation (http://www.unidesk.com) accelerates Virtual Desktop Infrastructure (VDI) deployments and simplifies desktop management. Unidesk® desktop layering software is the easiest way for IT organizations to package and deliver applications, patch Microsoft Windows®, sustain user-installed applications and other user customizations, and optimize storage for virtual desktops hosted on VMware vSphere®. By using Unidesk to create, manage, and repair desktops for Citrix XenDesktop®, VMware View™ and other brokering solutions, customers can expand VDI to more users, reduce desktop operations costs up to 30%, cut VDI storage costs up to 70%, and foster a more productive, agile workforce. Unidesk is available through an expanding network of solution partners and OEM partner Dell. Unidesk Corp. is a privately-held company with headquarters in Marlborough, Mass, USA
# # #
Unidesk is a registered trademark of Unidesk Corporation in the United States and/or other jurisdictions. All other trademarks and registered trademarks are property of their respective owners.