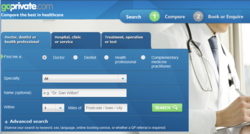 this is great for both patients and their carers and relatives as it will potentially shorten the pathway to getting specialist professional healthcare
London, UK (PRWEB UK) 22 August 2012
GoPrivate.com gives patients the opportunity to compare private surgeons, doctors, hospitals and clinics across the UK and internationally on a range of criteria including location, experience and qualifications and price for a consultation or treatment.
Other criteria that can be compared include gender of the doctor or clinician, languages spoken; facilities (e.g. number of inpatient/outpatient/ICU/HDU beds, number of consulting rooms or operating theatres); quality and safety (e.g. Incidences of MRSA/clostridium difficile or post operative wound infection etc); availability of appointments and whether a GP referral is required to make an appointment.
Patients can search by treatment, medical condition or aesthetic procedure and when they've found the medic or clinic of their choice, make an appointment without even leaving the site. The site contains listings for 20,000 doctors, 10,000 complementary health practitioners, 300 private hospitals and healthcare facilities and 19,000 specialist clinics around the world and includes all private healthcare providers in the UK.
In April this year an OFT report laid out a number of criticisms of the private healthcare sector including:
"A lack of easily comparable information available to patients and their GPs on the quality and costs of private healthcare services. This may mean that competition between private healthcare providers and between consultants is not as effective as it could be. In addition, the full costs of treatment may not always be transparent for private patients." (Source: http://tinyurl.com/cc653bg)
GoPrivate.com not only addresses these concerns but also helps the private sector catch up with the NHS in terms of enabling patients to make informed choices about their healthcare after the launch of NHS Choices.
GoPrivate.com is being launched by Intuition Communication, the team behind Private Healthcare UK. The team run other healthcare websites including HarleyStreet.com, TreatmentAbroad.com and FertilityTreatmentAbroad.com. GoPrivate.com is independent of any healthcare provider.
Keith Pollard, Managing Director of GoPrivate.com says the site is something he feels is very important in the current market for healthcare:
"More and more people are interested in going private, be it for medical or cosmetic treatment, but are unsure about how to find the best doctors and how to ensure they're not paying above the odds for treatment.
"By ensuring patients can search on a wide range of criteria we are giving patients the power of informed choice – having all the data and information and their finger tips – so they can click straight through to make an appointment when they've found the clinic or clinician that is right for their needs.
"With the OFT and Competition Commission already examining the lack of transparency of information and the difficulty of making a fair comparison between private healthcare providers, GoPrivate.com really is overdue and I hope will address many of their concerns."
The new site has been welcomed by doctors including Jafaru Abu, Consultant Gynaecologist at BMI The Park Hospital,Nottingham:
"This is a fantastic new development and a very innovative thought by Intuition Communications. I think this is great for both patients and their carers and relatives as it will potentially shorten the pathway to getting specialist professional healthcare. Both self-paying and privately insured patients now have the opportunity to book a consultation directly with the specialist consultant of their choice, an amazing addition to 'patient's choice'."
How GoPrivate.com works in detail:

Search: An intelligent search enables the public to locate hospitals and clinics, specialists and healthcare professionals, quickly and efficiently. Search by speciality, type of healthcare provider, location and much more.
Filter: Visitors can refine their search by filtering results according to their preferences, such as gender of healthcare professionals, languages spoken, availability of online booking, or whether a GP referral is required. There is also a powerful keyword search function.
Compare: Visitors can select a shortlist of healthcare professionals and providers and compare profiles, qualifications, experience, prices and more. They will be able to save details of their "favourite" healthcare providers for future reference.
Book: Patients can request an appointment, selecting locations and times provided by the service provider. The healthcare provider is alerted by email and/or SMS, with a link to accept and confirm the details of the appointment. The patient receives confirmation by email and/or SMS and on acceptance of the booking, pays an online booking fee to Intuition. The remainder of the fee will be paid at the time of the appointment.
ENDS
Notes for editors
About Intuition Communication
Intuition Communication is a web publishing company operating in the healthcare sector. Our websites serve as a gateway for patients to all types of healthcare providers, including hospitals, doctors, dentists, healthcare product and service companies who wish to promote their services and expertise to the general public.
Patients benefit from being able to access trustworthy information about health problems and issues; healthcare providers benefit from being able to access patients who are actively seeking a treatment or solution to their healthcare needs. To see our full portfolio of health and medical websites, see http://www.intuition-comms.co.uk/what-we-do/