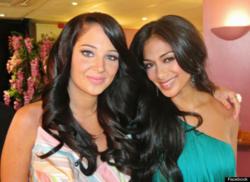 60% of men preferred brunettes.
(PRWEB UK) 22 August 2012
It seems that peroxide blonde hair has been ditched for shiny brunette locks, which are sported by top celebs such as Nicole Scherzinger, Tulisa and Kim Kardashian. It has been thought for many years that blonde hair makes a woman more attractive; however a recent study on a social networking site showed that 60% of men preferred brunettes. Another study revealed that men prefer brunettes because biologically they consider them healthier and therefore better life mates.
Science aside, it definitely looks like the world has gone brunette mad, but it's not only the colour that is trending. Ever since Kate Middleton stepped into the public eye and became the nation's favourite style icon, girls have been trying to recreate her long, wavy locks. Kate's hair has a brilliant shine and voluminous bounce, but I'm sure having her own personal stylist at her beck and call has a lot to do with it. Most women don't have that luxury, but still dream of achieving a flawless hairstyle. That's where Hair Extensions come in.
Hair extensions have become increasingly popular in recent years, but have received a lot of bad press about causing bald patches and ruining the hair. The solution? Clip In Hair Extensions. Clip in hair extensions is hair attached to clips instead of glue bonds, which are used to attach to the hair safely and securely. Not only do clip in hair extensions avoid hair damage, they can also be applied on your own so there is no need to pay for a professional to help you out.
Celebrities such as Tulisa and Nicole are known for using hair extensions to achieve their long length and volume. Go to buyhair.co.uk to check out the wide range of clip in hair extensions that can help you achieve a celebrity look in minutes at an affordable price.