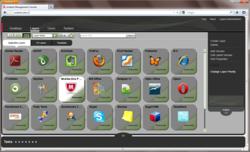 We've gone from five hours of desktop break/fix per day to five minutes, thanks to Unidesk, VMware View, and our various thin and zero clients, and Unidesk layering is so much simpler than trying to virtualize all of our apps.
Marlborough, MA (PRWEB) August 21, 2012
Unidesk will launch at VMworld 2012 next week a major release of its flagship desktop layering software that makes Virtual Desktop Infrastructure (VDI) easier to manage, more storage-efficient, and more reliable. Unidesk® 2.0 delivers new VMware vSphere® Hypervisor integrations to greatly improve fault tolerance and performance, together with new user layer snapshots and restore point automation for highly efficient desktop backup and effortless desktop repair and recovery. Other new features include storage tiers for enhanced cost/performance optimization, and new installation wizards that take the guesswork out of implementing VDI.
Hundreds of Citrix XenDesktop® and VMware View™ customers have chosen Unidesk to overcome VDI's toughest challenges, including packaging applications that cannot be easily virtualized, minimizing gold image sprawl caused by diverse pool and desktop configurations, and creating storage-efficient persistent desktops that sustain user-installed applications (see today's companion press release New Zealand's South Taranaki District Council Provisions Custom Virtual Desktops in 15 Minutes, Reduces IT Costs with Unidesk and the new Dell case study, University of Connecticut delivers anywhere, any device computing with Dell Virtual Labs, featuring Unidesk).
According to Marc Pruett, Director of Information Services, Vigo County Government, Indiana, "Unidesk's ability to create desktops by mixing and matching OS, app, and user layers has changed our lives here at the county. We've gone from five hours of desktop break/fix per day to five minutes, thanks to Unidesk, VMware View, and our various thin and zero clients, and Unidesk layering is so much simpler than trying to virtualize all of our apps. Not only does Unidesk gives us time back, but our VDI users are happier than those still on PCs, so it's a win-win. The automated recovery of desktops in Unidesk 2.0 will make our lives even easier."
Unidesk 2.0, to be showcased for the first time at VMworld 2012 booth 2425, builds on the company's patent-pending N-layer™ technology, designed to permit any number of applications to be packaged as discrete layers, independent of the Microsoft Windows gold OS layer. Unlike other approaches that offer only one or two layers, Unidesk enables IT managers to create desktops from the same OS layer and any combination of application layers to satisfy the client computing needs of different departments and users. The granularity and flexibility offered by N layers finally makes it possible for IT organizations to avoid gold image proliferation, as well as the cost, time, and expertise previously required to virtualize applications. Both have been common obstacles to VDI success.
"We've always been a fan of Unidesk's multi-layer technology and have used it with Citrix XenDesktop and Dell Wyse clients for over a year, but, like most organizations, we've moved ahead cautiously with VDI to give it time to mature," said Paul Kramer, Information Systems Manager, Kawasaki Motors Manufacturing Corp., U.S.A. "The performance, availability, and storage tiering enhancements in Unidesk 2.0 are just what we need to get more aggressive with our rollout. So far, our pre-release testing of Unidesk 2.0 with our new Tintri storage shows better performance than a physical PC, which, together with Unidesk's ability to offer real persistent desktops, should make VDI expansion an easy sell."
What's New in Unidesk 2.0
Unidesk has always meant simpler VDI. With the new capabilities in Unidesk 2.0, Unidesk now means simpler, faster, and more reliable VDI:
VMware vSphere Hypervisor integrations for enhanced fault tolerance and performance:

Unidesk now delivers all desktop I/O natively through the VMware hypervisor, eliminating network overhead and permitting desktops to continue running even if Unidesk virtual appliances are shut down or offline.
Unidesk now creates highly customized non-persistent desktops, delivers them to VMware View pools and Citrix XenDesktop groups, and refreshes them up to 10 times faster. .
Unidesk User, Application, and OS layers are now stored separately as VMware Virtual Machine Disk (VMDK) files, VMware's standard hypervisor format.
User layer snapshots and restore point automation for highly efficient desktop backup and effortless, Level 1 desktop repair and recovery:

Unidesk desktops can now be assigned a backup frequency from once a day to hourly, or backed up on demand. During a backup, only the User layer is snapshotted to capture documents, settings, and user-installed applications. The overhead of backing up applications and Windows gold image files for every desktop is eliminated.
Level 1 IT service desk staff can undo user damage and eradicate viruses and malware simply by selecting an earlier restore point. Unidesk rebuilds the desktop using the centrally stored and assigned OS and App layers and the backed up User Layer.
Storage tiers for cost/performance optimization:

Unidesk now offers multiple tiers of storage. The Archive Tier stores backups of User layers for desktop repair and recovery operations, and can be targeted at low cost, high capacity storage. The Layers Tier stores User, Application, and OS layers, and is ideally hosted on centralized SAN, SSD, or flash storage for higher performance and availability. The Boot Tier stores page files, VSwap files, and other transient desktop components.
Installation wizards that take the guesswork out of implementing VDI:

Unidesk's new, easy-to-use install wizards enable administrators to progress from zero to running and configured Unidesk virtual appliances and a gold OS layer ready for desktop assignment in just a few clicks.
"First generation VDI was plagued by excessive cost and complexity, yet VDI desire remains strong," said Chris Midgley, Founder and CTO, Unidesk. "Our full desktop layering approach has proven to be a simpler, more complete single-pane-of-glass alternative to the mishmash of tools others offer for provisioning, image management, application virtualization, departmental apps, user-installed apps, and profile management. With Unidesk 2.0, our improvements in availability, performance, and scalability enable customers to accelerate VDI rollouts and realize even greater operational cost savings."
Availability
Unidesk 2.0 will be available shortly after VMworld 2012 through Unidesk's expanding network of resellers and Unidesk OEM partner Dell.
To see a live demo of Unidesk 2.0, visit Unidesk at VMworld Booth 2425 or Dell booth 1523.
IT managers from Unidesk customers Farmers Mutual Hail Insurance Company of Iowa, Fresno County Office of Education, Hartnell College, Mercer University, Nationwide Children's Hospital, Southwest Michigan College, Tulare County Government of California, University of Wisconsin Oshkosh, and Vigo County Government of Indiana will be staffing the Unidesk booth, giving VMworld attendees who are considering Citrix XenDesktop or VMware View a chance to learn from those with successful VDI implementation experience.
Click to Tweet: At @VMworld, @UnideskCorp releases V2, layering simplifies @VMwareView & @XenDesktop. Talk to successful #VDI customers at Booth 2425.
About Unidesk
Unidesk Corporation (http://www.unidesk.com) accelerates Virtual Desktop Infrastructure (VDI) deployments and simplifies desktop management. Unidesk® desktop layering software is the easiest way for IT organizations to package and deliver applications, patch Microsoft Windows®, sustain user-installed applications and other user customizations, and optimize storage for virtual desktops hosted on VMware vSphere®. By using Unidesk to create, manage, and repair desktops for Citrix XenDesktop®, VMware View™ and other brokering solutions, customers can expand VDI to more users, reduce desktop operations costs up to 30%, cut VDI storage costs up to 70%, and foster a more productive, agile workforce. Unidesk is available through an expanding network of solution partners and OEM partner Dell. Unidesk Corp. is a privately-held company with headquarters in Marlborough, Mass, USA
# # #
VMware, VMware vSphere, and VMware View are registered trademarks and/or trademarks of VMware, Inc., Citrix and XenDesktop are registered trademarks of Citrix, and Unidesk is a registered trademark of Unidesk Corporation in the United States and/or other jurisdictions. All other trademarks and registered trademarks are property of their respective owners.