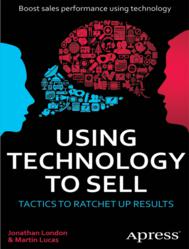 "...practical, effective techniques to sell more by leveraging the plethora of tools and information in today's world..."-- Jill Konrath, author of SNAP Selling and Selling to Big Companies
--Ji
New York, NY (PRWEB) August 20, 2012
Business operations are increasingly influenced and affected by the advance of technology. At the same time, when it comes to the business benefits promised by sales technology, it would be fair to say that the promises can seem illusory. Customer relationship management (CRM), sales force automation (SFA), enterprise resource planning (ERP), web portals, real-time communication, faster and more available bandwidth, mobile devices, higher-resolution screens , voice recognition and GPS are technologies that provide greater capability than ever before to help people sell, and no doubt affect the prospect's decision making process. So in reality, how exactly do businesses keep up with learning and knowing what technology to use where, how, and when?
Using Technology to Sell: Tactics to Ratchet Up Results shows salespeople and sales managers the most effective ways to leverage a variety of technologies to increase sales and gain more customers. Using technology aptly for sales effectiveness requires planning with more holistic focus than simply installing a "sales" application. It is up to companies to think more broadly and strategize with regards to the business, organizational, and human issues surrounding sales and to put technology to work in support of these issues.
Expanding on these ideas, Using Technology to Sell: Tactics to Ratchet Up Results presents a broad discussion on:
1) How to gain new customers and increase order size through the use of technology
2) How to employ cloud applications like SalesForce.com or BatchBook.com to keep track of customers, stay organized, and sell more systematically
3) How to use social media to increase sales
4) How to maintain the personal element in a world wired with technology
5) The best sales methodology and how to integrate each step with technology
6) How to avoid the trap of overuse or dependency on technology

ISBN: 978-1-4302-3933-8
340 pages
User Level: Beginner to Advanced
Publication Date: August 17, 2012
Available eBook Formats : EPUB, MOBI, PDF
Print Book Price : $24.99
eBook Price: $17.99
About the Authors
Jonathan London is president and founder of the Improved Performance Group, a training and development consulting firm specializing in helping sales organizations improve. London is an accomplished salesperson at technology companies like Olivetti, ROLM, Wyse/Amdek, and others. IPG's clients include Tandberg, VeriSign, Polycom, Dell Computers, Lawson Software, Advertising.com, SPSS, Ricoh Corporation, Watson Wyatt Worldwide, Enunciate, AT&T and many others.
Martin Lucas is president and founder of TSI squared, a training and consulting firm specializing in sales improvement, sales messaging, and conferencing consultations and Phinkit.com, a new social media platform that enables people to promote their business and achieve whatever their goals are. TSI clients come from a variety of spectrums, industries and markets, giving him a wide breadth of insight.
About Apress Media
Apress Media LLC is a technical and business publisher devoted to meeting the needs of IT professionals, software developers, programmers, and business leaders with more than 1,000 books in print and electronic formats. Apress provides high-quality, no-fluff content that helps serious technology professionals build a comprehensive pathway to career success. Since 2007, Apress has been part of Springer Science+Business Media, one of the world's leading scientific, technical, and medical publishing houses, enabling global distribution of Apress publications. For more information about the innovative approach Apress takes to publishing, please visit http://www.apress.com.