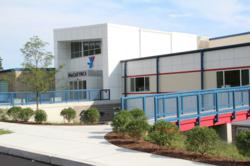 Lincoln, RI (PRWEB) August 22, 2012
A ribbon cutting ceremony and an open house will mark the opening of the new MacColl YMCA fitness and wellness facilities starting on Friday, Aug. 24, and running through Sunday, Aug. 26 from 1 to 4 p.m. at 32 Breakneck Hill Road.
YMCA personnel and dignitaries will be present at the ribbon cutting ceremony on Friday, Aug. 24 at 10:30 a.m. to announce the end of the MacColl YMCA construction. Following the ribbon cutting ceremony will be the open house to showcase the new features of this multi-million dollar, 52,000-square-foot facility conveniently located near Route 146.
The open house will offer:

Family swim opportunities
Group sessions, demonstrating exercises such as Zumba, spinning and weight lifting.
Child protection screenings provided by New York Life Insurance.
Basketball competitions that will allow attendees to show off their 3-point and free-throw shooting skills.
Use of an indoor rock climbing room.
Demonstrations by Cybex certified fitness instructors in MacColl's new 7,500-square-foot wellness and fitness center.
Guided tours of MacColl's extensive campus.
Consultations about the YMCA's premier child care programs and vacation and summer camps.
Refreshments provided by the YMCA.
Additional features of the new MacColl YMCA include:
An adventure center, with a 30-foot high climbing wall.
A full gymnasium, with a high school size basketball court, four cross half courts and two volleyball courts.
A fitness center equipped with free weights, weight training machines, treadmills, bicycles, elliptical machines and other apparatus.
Rooms for yoga, aerobics and dance classes.
Interconnected activity rooms for youth programs and birthday parties.
Five locker rooms for men, women, boys and girls; and a 10-room family changing area.
The MacColl YMCA has a proud 60-plus-year tradition of providing first-class family fitness and wellness programs, and the organization is entering a period of expanded community service, with its new two-story 52,000-square-foot year-round handicapped accessible facility. In addition, two existing buildings have been renovated to give the YMCA the capacity to increase preschool early learning, elementary school age and teen programming.