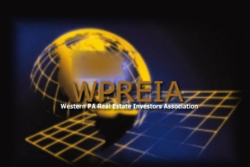 "freedom is the goal, learning how to become free is the journey, come and join us on the journey to financial freedom" Josh Caldwell
Pittsburgh, Pennsylvania (PRWEB) August 21, 2012
As a courtesy to the public, the members of the Western PA Real Estate Investor's Association are allowing non-members to attend this meeting for free. The location of this meeting is the Greentree Doubletree Hotel. The meeting will be held between 7 -9 P.M. There will also be an educational class starting at 6:30 P.M. that is open to guests as well.
The relationship between PROA and WPREIA is a very strong one. The founder of the local investing club Jean Yevick was also a founding member of PROA. There is a long tradition of the Pittsburgh based club fighting for the rights of property investors across the state. As a lobbying organization the state organization has the full support of the local chapter. Anyone interested in protecting the rights or private property owners to rent to the public would be well served to attend this meeting.
The rest of the meeting will be focused on the vendor-partners of the club. These are the business that have extended discounts and offer special relationship benefits to the members of the Pittsburgh based investing club. For those who are not familiar with the Western PA Real Estate investor's Association; the club is a group of investors who have formed to learn about the techniques that will allow them to achieve financial freedom through real estate investing. The club is primarily composed of investors and future investors across Western Pennsylvania. Out of area members are also welcome. At this moment the Pittsburgh based club has members as far away as Washington State. Geography is unimportant. What is important to this group is the desire for financial freedom and a willingness to learn from people who have already achieved that goal. If you wish to learn more about the club of apply for membership, then visit the club's web site at PittsburghREIA.com.
This meeting is a unique focus for the club. Most of their meeting revolves around the nuts and bolts of how to become a real estate investor in this economy. The club works to dispel the myth that you need a lot of money to make money in real estate. Club members are making chunks of cash in many ways. It is the goal of the club to share these techniques within the organization. The club also brings in nationally known educators to lecture on the newest ways to make money in real estate with the smallest amount of risk possible.