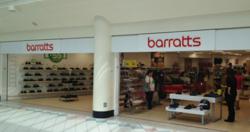 Horsham, UK (PRWEB UK) 22 August 2012
High street shoe retailer Barratts has today opened its doors to a new store in the Swan Walk shopping centre, Horsham.
The opening of the new Barratts shoe shop coincides with the conclusion of Barratts' Spring/Summer sale and the start of their 'Back to School' period which will commence in early August prior to the launch of their Autumn/Winter catalogue.
Barratts take great pride in their provision of 'Back to School' kids shoes for their customers and go to great lengths to make certain their staff are fully up to speed on the correct ways to fit growing feet. Full training is given to make sure staff are aware of the needs of young ones' feet as part of an all-round effort to ensure the greatest possible level of customer satisfaction is given during one of the shop's busiest trading periods of the year.
Barratts' 'Back to School' collection continues an annual tradition focusing on providing quality shoes for school children of all ages at an affordable cost for their parents. The continual dedication to these qualities has made Barratts a favourite shopping destination for parents getting their children ready for school as well as throughout the year.
Barratts are an established brand who have gained favour from their loyal shoppers through stocking an eclectic range of popular brands including 'Kickers', 'Hush Puppies' and 'Rieker shoes'. The diversity of choice this allows customers is reflected in the continual arrival of new stocks in seasonal trends and is matched by Barratts' dedication to provide the latest fashion styles for their customers; new arrivals at Barratts have recently including animal print shoes, winter boots, studded shoes and wedge trainers.
Barratts' arrival at Swan Walk ensures that shoppers in Horsham and its surrounding locations will be able to experience the unparalleled standards of customer service, stock and experience in footwear retail the brand provide. Barratts have also launched a new look and feel website for those looking to buy shoes online.