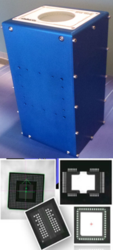 Ann Arbor, Michigan (PRWEB) August 27, 2012
Coherix, a leader in advanced vision measurement and inspection solutions for manufacturing, has released OPIS, its newest sensor for electronics and semiconductor customers. OPIS (Optical Precising Inspection System) is a compact system that combines high definition, on-the-fly location and inspection capability with the added benefits of processing multiple parts simultaneously, thus achieving substantially increased throughput.
"We have been supplying our semiconductor customers with high-performance, on-the-fly, 3D positioning and inspection systems for over 5 years now." said Jon Upham, Coherix Director of Application Engineering. "OPIS was designed and built as a direct response from our customers for the same capability in 2D. We took the lighting and control technology from our 3DX family of inspection systems and incorporated it into a smaller, lower cost package to create OPIS."
OPIS comes in several fields of view, resolution, accuracy and speed configurations. It inspects ball grid array (BGA), Leaded (QFP, TSOP, etc.) and Leadless (QFN) components with zero mechanical changeover between parts. Coherix is now shipping OPIS systems to OEM customers.
Coherix is a privately held, global supplier of high-speed, high-definition 3-D visualization and 2-D inspection solutions designed to improve the management of manufacturing processes. Headquartered in Ann Arbor, the company has technical centers in Europe and the Asia Pacific region. Coherix products are being utilized around the world at companies such as Intel, SPIL, BorgWarner, Ford, Honda, MAG, Chrysler, KYEC, General Motors, Micron, Infineon, John Deere, Volvo Technology Transfer and TRW among others. More information is available at http://www.coherix.com.
Coherix Company Contact:
Rick VandenBoom
Phone: +1.734.922.4099
rickEmail: rickv(at)coherix(dot)com