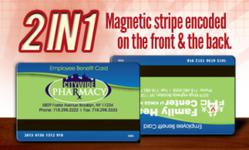 (PRWEB) August 20, 2012
Tele-Pak announced this week that they now can offer standard credit card size cards (CR-80) with magnetic stripes that can be encoded on the front AND the back. Any organization will find this innovation attractive, but particularly medical insurance companies -- utilizing them with a medical insurance ID card on one side and affiliated services ID card on the other, such as a pharmacy or vision card.
Last month, Tele-Pak announced the ability to economically and accurately encode magnetic stripes on card and key tag combinations, with both the card portion and the key tag portion independently encoded. This has become a popular request for businesses that are looking to produce cards and tags for marketing and loyalty campaigns. Grocery stores, health and fitness and other retail establishments are also finding this feature to be of enormous benefit to their businesses.
The hotel and restaurant industries are also heavily relying on Tele-Pak Cardprinting.US Inc. to provide them with RFID and contactless card solutions that can be reliably encoded. Customers and industry insiders alike give Tele-Pak high marks when considering Tele-Pak's ability to provide solutions to unique plastic card printing projects, considering them determined and highly knowledgeable.
Samples are available by request at salessupport(at)tele-pak(dot)com.
CardPrinting.US is a part of the Tele-Pak CardPrinting.US Inc. family of web sites for plastic printing needs. Tele-Pak is located in Monsey, NY and has been a worldwide leader in the plastic printing industry since 1996, producing all kinds of plastic cards: gift cards, smart cards, RFID, contactless cards, plastic key tags, scratch cards, phone cards, fundraising cards, membership cards, loyalty cards and point of sale activation (POSA) cards. They have long been considered a leader in data and plastic card integration as well as unique plastic card production solutions. Corporate information can be found at http://www.tele-pak.com.