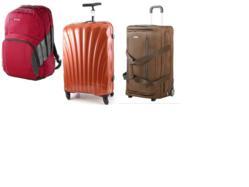 customers can be assured that they are receiving quality and durability
Kent (PRWEB UK) 23 August 2012
These statistics of customers doing more online luggage shopping are supported by Luggage Superstore being the largest independent online retailer for Samsonite luggage. Samsonite is known for its innovation and moving with technology and this is simply the obvious step for Samsonite to take in understanding the need for quick access to luggage purchases via websites. Samsonite basically promises by going live on the E-commerce platform that for every Samsonite product that is sold on the market would be now available online even though initially this kicks off with the Samsonite India website.
"As customers seek to purchase Samsonite's luggage online more frequently, Luggage Superstore is right in the forefront bringing access to diversity in products to make their luggage store a one-stop for customers." says Andy Steadman, Managing Director of Luggage Superstore.
When a Samsonite bag is purchased, customers can be assured that they are receiving quality and durability. Samsonite manufactures duffles, trolleys, briefcases, laptop bags, wallets, handbags and many accessories.
Online shopping is definitely something of this generation and looks to continue push forward to the next generation too with progressing technology. Luggage Superstore has made payments available for products with Debit and Credit cards via their online store or on their direct sales line on 01474 854666.
Luggage Superstore established site is in West Kingsdown, Kent. Their aim is providing competitive prices of the highest quality luggage and top calibre Customer Service for online luggage shopping.
Trina Chee-a-kwai
Luggage Superstore
01474 854666
Email information