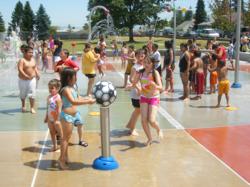 Converting our wading pool to a Splashpad® has helped us increase attendance three-fold as well as increase the length our operating season.
Pointe-Claire, Quebec, CANADA (PRWEB) August 21, 2012
Many of today's wading pools are now in a state of disrepair. With the demand for aquatic amenities on the rise, Vortex Aquatic Structures International has several solutions that can help communities revitalize, refurbish and refresh these older wading pools. By adding a Vortex Aquatic Play Solution, communities will be providing a safe, inclusive and durable aquatic activity for kids, while also attracting new residents and increasing property values.
In this session, Vortex will explore both conversion and refurbishment options for existing wading pools. Terry Dubuc - Aquatics Specialist for Vortex Aquatic Structures International will examine the different options available, including converting a wading pool into a Splashpad® or refurbishing an existing pool with a multi-level aquatic play structure, and the process involved to accomplish each option.
The webinar will explore:

The available options for wading pool conversion
The wading pool conversion process
The benefits of each option
Case studies – attendees will hear from guest speakers who have converted older wading pools using Vortex Solutions with great success.
Vortex has helped hundreds of: aquatic designers, parks and recreation officials, landscape architects, elected officials, HOA leaders and public works officials execute projects that are sustainable, environmentally considerate, cost efficient and beneficial for municipal residents.
Date: Thursday August 30th 2012
Time: 1:30pm EDT, 10:30am PDT
Spaces are limited so please register now to reserve a free spot!
About Vortex Aquatic Structures International
Vortex Aquatic Structures International, headquartered in Montreal, Canada, was established in 1995 with the introduction of the first Splashpad®. With over 5,000 installations worldwide and a global distribution network, Vortex is well positioned as an industry leader in aquatic playground and urban landscape solutions. In its ongoing effort to lead with inspiring designs, coupled with state-of-the-art engineering, water conservation solutions and use of the highest quality materials, Vortex continues to meet the demands of municipal and commercial recreation customers. The company remains committed to its mission of developing fun, safe and reliable products for families and children of all ages.
For more information on Vortex Splashpad®, Poolplay™ and Spraypoint™ solutions, please visit our website at http://www.vortex-intl.com or call 1-877-5VORTEX.