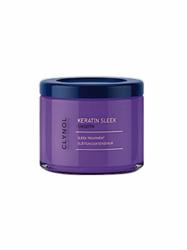 (PRWEB UK) 20 August 2012
Hairtrade.com, the UK's leading retailer of hair extensions, hair care and beauty products has announced that it has added an exciting new range of Clynol products to its Hair Care collection.
The Clynol Keratin Sleek range is the newest addition to Hairtrade.com, consisting of four products designed to smooth and straighten hair thanks to its Keratin-Polymer Complex.
The first step to smoother hair is the Clynol Silk Keratin Sleek Shampoo – the caring formula coats each hair with a Keratin-Polymer Complex and prepares your hair in the best way for further Keratin Sleek treatment.
Clynol Smooth Keratin Sleek Treatment is ideal for coarse and frizzy hair. Its intensive formula coats each hair with a protective Keratin-Polymer Complex as it repairs and leaves hair smooth and straight. As well as the treatment, the collection also consists of Clynol Satin Keratin Sleek Oil Potion – deigned to keep hair straight for up to 48 hours. It is a shine-enhancing and caring oil that creates and extra glossy finish.
And finally, Clynol Tame Keratin Sleek Blow-drying Balm is a lightweight balm which helps when blow drying hair and gives it a more smooth finish. Use after Clynol Keratin Sleek Shampoo and Treatment to intensify the straightening results.
The Clynol Keratin Sleek Range is available now from Hairtrade.com.
About I&K International Limited:
I&K International Limited was established in 2005 and is now one of the leading online hair care, hair extensions and beauty products distributor and retailer across the UK and Europe. Hairtrade provides a wide range of hair extension products, hair care and hair electrical brands.
Hairtrade provide a wide range of 100% human hair extensions (http://www.hairtrade.com/ ) mainly, human hair weaves, I&K clip in Hair Extensions and pre-bonded hair and European hair extensions. Among its top brands are I&K 100% Human Hair and Remy Hair, Top Model and Jessica Simpson hair. In addition to its 100% human hair extensions the company also provides synthetic hair extensions, wigs, hairpieces, hair extensions accessories and tools, as well as an extensive range of hair care products from brands such as Tigi, Loreal, Schwarzkopf, Goldwell, Matix, Fudge, Keune, Sexy Hair and many more.