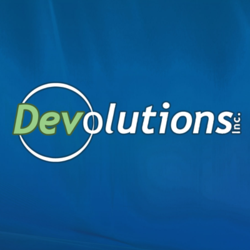 We will ensure that our blog isn't about us, but rather about our community.
Montreal, Quebec (PRWEB) August 22, 2012
Devolutions, a fast growing Canadian-based enterprise software development firm and creator of Remote Desktop Manager, which has over 200,000 users in more than 80 countries, has launched a new company blog.
Devolutions' new blog features technical, business and marketing-related content, and is designed to inform and entertain its growing community of IT pros and users around the world.
Visitors to Devolutions' new blog can look forward to original daily and weekly content that includes:

Tutorials, tips and tricks for all Devolutions' products
Latest release and update information
Interviews with IT pros and other experts
Feature articles from members of the Devolutions' community
Interesting polls surveys
Great contests and giveaways
Video posts and photos of life at Devolutions
*…and more
Plus, Devolutions will be adding a regular dose of fun and humor, to give everyone a healthy break from work every now and then.
"Our forum features over 10,000+ posts from more than 1,800 IT pros and customers, and so we felt that adding a blog to our communications toolkit would give us another great channel to interact with our amazing community," commented Devolutions' CEO and founder David Hervieux. "And as always, we will ensure that our blog isn't about us, but rather about our community, and that it always provides them with interesting, relevant and entertaining content."
People who want to explore and subscribe to Devolutions' new blog can visit http://blog.devolutions.net. No registration or membership is required.
For more information or media inquiries, contact Maxime Trottier at (450) 935-0608 or mtrottier(at)devolutions(dot)net.
About Devolutions
Established in 2004, Devolutions is a Canadian-based company located near Montreal, Quebec. The firm currently has over 200,000 users in over 80 countries. The firm's mission is to develop innovative enterprise software that helps users cost-effectively, simply and effectively achieve their network management, password management, credentials management and security goals. The firm is also committed to providing exceptional technical support, ensuring an excellent user experience that exceeds expectations, and delivering high performance with superior quality. The firm's current roster of solutions includes Remote Desktop Manager, Password Vault Manager, Remote Desktop Manager Online and Remote Desktop Manager Server. Learn more at http://devolutions.net