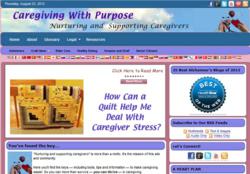 "Giving care for someone with Alzheimer's disease may be the best thing a caregiver ever does. It can also be the hardest thing, and often is both at the same time." Dr. Gilmore
Marion, SC (PRWEB) August 31, 2012
Healthline.com named http://www.CaregivingWithPurpose.com as one of its 25 Best Alzheimer's Blogs of 2012. Healthline.com reports these 25 Best Alzheimers Blogs are "blogs from people who are truly 'in the trenches.' These writers know where you are and what you want to find when visiting their sites…" And CaregivingWithPurpose.com written by Ina Gilmore, M.D. certainly qualifies.
As both a professional and family caregiver, Dr. Gilmore knows the joys and heartaches of caregiving for someone with a chronic disease like Alzheimer's. In Caregiving With Purpose she shares her experiences and insights to help caregivers succeed.
Dr. Gilmore knows caregiving may be the best thing caregivers ever do. It may also be the hardest. And often it's both at the same time.
Caregiving can be demanding. And Dr. Gilmore knows how and why caregivers run the risk of getting ill themselves. She says, "Too often caregivers are so focused on giving care to a loved one with Alzheimer's Disease or another chronic illness that they often ignore their own needs."
In Caregiving With Purpose, Dr. Gilmore gently takes caregivers—and those who care about them—through information about Alzheimer's disease and other diseases. She addresses the silent needs of the caregiver while showing them how they can more than survive—they can thrive—in caregiving.
Topics in Caregiving With Purpose include Alzheimers, reducing caregiver stress, healthy eating, senior living, crafts for both caregivers and care receivers, hospice and grief.
About Ina Gilmore, M.D.
Ina Gilmore, M.D. is a former physician who now writes two blogs, CaregivingWithPurpose.com and TheKnittingYarn.com. She knows caregiving both as a professional and as a family caregiver. She understands the isolation and pains of caring for someone with a chronic illness.
She is known online as "The Knitting Dr." and knows how knitting and other crafts can help relieve stress, including caregiver stress.
Dr. Gilmore is available for interviews and speaking on topics including caregiving, knitting and quilting.