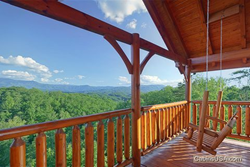 Vacation rental business Cabins USA epitomizes a company that has continued to profit and expand during these harsh economic times.
Pigeon Forge, TN (PRWEB) August 22, 2012
Amid the rhetoric of the upcoming presidential election, the status of the nation's economy remains a key issue of campaign ads and political platforms. However, if one were to listen solely to the speeches of presidential hopefuls and news pundits, the steady upswing of businesses across the country would be completely ignored. Vacation rental business Cabins USA epitomizes a company that has continued to profit and expand during these harsh economic times.
The company reported their most profitable summer season this year, with travelers booking their luxury Pigeon Forge cabins for longer stays, bringing in larger profits. This record-breaking year comes on the tail of successful previous seasons and points to continual progress and expansion within the coming months. In fact, not only has Cabins USA begun booking on its luxury cabin rentals for the fall and winter of 2012, but the company has started advanced booking into the next year. Additionally, this summer's success demonstrates the steady economic growth of the entire Smoky Mountains region, particularly Pigeon Forge.
When asked about this summer's success, company executive James Douglas stated, "We are pleased that vacationers are continuing to choose our cabins for their travel needs in Pigeon Forge and hope our current rate of booking continues within the next year."
Tucked away within the rolling emerald hills of East Tennessee's Great Smoky Mountains, Pigeon Forge offers not only the splendor of its surrounding landscape but premier shopping, entertainment ranging from educational museums to exciting live musical and theatrical productions, as well as one of the South's most recognized theme parks, Dollywood. Pigeon Forge provides an experience suited for everyone, from family reunions to the newlywed couple to the outdoorsman looking for an adventure. Whatever experience one hopes to gain from his or her vacation, it can be found within Pigeon Forge. A stay in one of Cabins USA's cabin rentals, which offer amenities such as Jacuzzis, pool tables, and fireplaces surrounded by stunning views and in convenient locations, serves to create lasting memories with loved ones.
As demonstrated by this year's success and advanced bookings into 2013, Cabins USA will continue to be a key play in the vacation rental industry and contribute to the renewed economic growth within Pigeon Forge and the greater East Tennessee region.
Cabins USA is a Limited Liability Company that employs 35 full and part time employees, sub contracts to 9 cabin cleaning businesses, and many other specialty businesses. Cabins USA was founded in 2004 and has added a sister company, Cabins USA Gatlinburg, since its inception. Cabins USA gatlinburg specializes in the company's luxury Gatlinburg cabin rentals. Its core values of providing clean and comfortable luxury cabin rentals at affordable prices have grown the company to one of the largest in the Smoky Mountains.