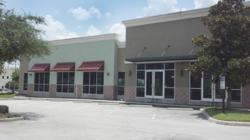 These shell suites are build out ready and can be configured for many uses including medical, professional or service industries
Orlando, FL (PRWEB) August 20, 2012
Higgenbotham Auctioneers International (HAI) is offering at auction eight medical and professional office shell suites at 6pm Thursday, August 23rd at The Hyatt Place- Lake Mary, 1255 S. International Parkway. At least suite is being offered absolute.
These shell suites are located at 731 & 743 Sterling Center Place on Rinehart Road, within the Lake Mary/Heathrow Commercial district. Property preview is available one hour prior to auction. The eight suites total more than 13,600± sf and are convenient to I-4 exits 98 and 101A.
"These shell suites are build out ready and can be configured for many uses including medical, professional or service industries," commented Mike Nall an auction manager for HAI.
The Lake Mary/Heathrow commercial district is one of the areas fastest growing districts and features shopping, professional services, medical care, schools and housing.
For complete information, please contact Mike Nall at 800-257-4161 or visit Higgenbotham.com.
About Higgenbotham Auctioneers International Ltd., Inc.:
Founded in 1959, Higgenbotham Auctioneers International ("HAI") is headquartered in Lakeland, Florida and specializes in the sale of corporate real estate throughout the United States and the world by utilizing the auction method of marketing.
HAI is an alliance partner of NAI Global and enjoys continuing relationships with Fortune 500 clients such as Alcoa, International Paper, Wal-Mart Realty, and Sinclair Oil, as well as many publicly traded and closely held companies.
For complete information about Higgenbotham's auction process or its current auction calendar visit higgenbotham.com or call 800-257-4161