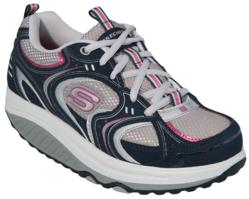 (PRWEB) August 22, 2012
The California based shoemaker advertised to consumers that the brands' uniquely shaped design will greatly improve weight-loss, cardiovascular health, and also improve muscle tone in the wearer's legs, buttocks and stomach. The company claimed that the unique curved sole of the shoe would greatly improve energy use and motion with each step and used numerous celebrity endorsements in its promotions.
However, given popularity of the ad campaign featuring this innovative and healthy design, the line of shoes has become increasingly linked to muscle and tendon injuries, stress fractures, fall injuries, and even disruptions with its users' natural walk. In response to a lawsuit filed by the Attorney General Offices of both Tennessee and Ohio and Illinois, which consolidated 70 lawsuits stemming from more than 40 states against Sketcher for the injuries the shoes caused, the Federal Trade Commission initiated its own investigation against the shoe maker. By examining the studies cited by Sketchers, the FTC found that the company's claims were baseless after discovering serious flaws in how the research was both completed and reported. The complaint and settlement were filed in the U.S. District Court for the North District of Ohio this past May (Docket no. 1:12-cv-01214-JG). Last September, the shoe manufacturer Reebok gave out a $25 million settlement for similar claims of deceptive advertising involving its similar line of "tone-up" shoes.
Attorney Paul d'Oliveira stated "We've learned there are many people who have been seriously injured from these toning shoes, which not only do virtually nothing to help someone get more toned by wearing these shoes, but also their defective design has caused many people unnecessary injuries. Our civil justice system is presently under attack by the Right Wing Conservative Politicians in this country. These politicians are getting millions of dollars in campaign contributions from large corporations to pass laws to make it more difficult for the average person to have access to the civil justice system. They also spread false propaganda stating that too many lawyers and lawsuits are the problem with America. This settlement is one example of how our present civil justice actually does work where consumers who are unnecesssarily injured do to corportate greed and negligence are able to recover for their injuries."
The attorneys at d'Oliveira & Associates urge anyone who has purchased falsely marketed toning shoes and have been injured in any way by wearing them to contact them now. They are working with some of the leading defective product attorneys in the nation who are handling these cases. They want to protect all consumers of the Sketcher's Shape-Ups and other toning shoe brands to understand that they are entitled to compensation.
For a free legal consultation, call 1-800-992-6878 or visit their website at Skechers Toning Shoes Lawyer