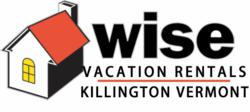 This cutting edge technology makes vacation planning effortless and allows the guest to make the most of their time spent in our Killington vacation rentals. - Jayne Mansfield
Killington, VT (PRWEB) August 21, 2012
Wise Vacation Rentals, a leading Killington, Vermont-based vacation rental management company, is pleased to announce the release of a free mobile app that is sure to please vacation rental guests and homeowners alike. The Wise Vacations App will appeal to guests staying at properties managed by Wise Vacations, as well as prospective visitors interested in learning more about the Killington area.
"With mobile use on the rise, especially when planning and researching a trip, we are thrilled to be able to offer this incredibly useful app to our loyal guests and future visitors," said Jayne Mansfield, Regional Rental Operations Manager for Wise Vacations and TPW Management. "This cutting edge technology makes vacation planning effortless and allows the guest to make the most of their time spent in our Killington vacation rentals."
The Wise Vacations app provides a great deal of information that guests will need before, during, and after their stay. Guests will receive an invitation to download the mobile app prior to their stay with Wise Vacations, and from there, the vacation planning and preparation can begin. The app has it all, including pre-arrival tips, directions to the property, property tips, and area information, as well as restaurant, event, and activity recommendations hand-selected by Wise Vacations.
Guests don't have to worry about getting lost when out seeing the sights in Killington, as the app uses the phone's GPS to locate the vacation rental property they are staying in. Similarly, the app can provide directions from the guest's vacation rental to restaurants, attractions, and activities, making it easy to navigate around town.
You don't have to be a guest of Wise Vacations to get the customized experience from the mobile app. Anyone can download the app and use it as a visitor for area recommendations, as well as to book vacation rentals with Wise Vacations. The app has everything one could need to book a property, and it also has a map feature for those that are in Killington and want to check out properties managed by Wise Vacations for a future visit.
This new mobile app is a must-download for Wise Vacation Rentals guests and anyone looking to plan a vacation to Killington. The free app can be downloaded at the Apple iTunes store and is compatible with iPhone, iPod touch, and iPad.