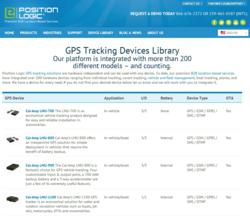 We built a world-class business-to-business GPS tracking platform, and then realized that wasn't enough
Naples, Florida (PRWEB) August 21, 2012
What happens when a growth industry is mixed with an industry-leading technology platform, brilliant minds, hardworking and talented people, and a people-first approach to business? If you're Position Logic, what happens is you've earn a coveted spot on the 2012 Inc. 500 list.
For over thirty years Inc. magazine has published an annual list of America's 500 fastest-growing private companies – and on this year's list, along with other companies with names like Facebook and Levi Strauss, is GPS tracking platform provider Position Logic, appearing for the first time. The exposure afforded to young companies making the list is unattainable by almost any other means, and demonstrates to the global business community that the company is a leader in its sector.
With a process-driven, client-centric approach to leveraging the company's state-of-the-art GPS tracking technology that always puts people first, it's little wonder that Position Logic is rapidly growing its client base around the world. The Naples, Florida-headquartered company is an authorized partner with GPS giant Garmin, and has already won numerous other awards and recognitions. And with its place on the Inc. 500 list of fastest-growing private American companies comes perhaps the greatest reward of all – knowing that in an otherwise sluggish economy, Position Logic's growth is a powerful engine for both job and revenue generation.
Position Logic CEO and Co-Founder Felix Lluberes directly attributes his company's success to what he calls a focus on PPT – People, Process and Technology. "We are a global company, and being recognized globally like this is critically important to us now and for our future growth. How did we get here? We built a world-class business-to-business GPS tracking platform, and then realized that wasn't enough," says Lluberes. "We put processes in place so that every client had the same great experience – and then we hired the most talented people we could find to make sure that not only was our technology always industry-leading, but so was our customer service. That approach has paid off for both our clients and for us, and allows us to just keep growing. And as long as we keep that focus, I don't see our growth slowing down anytime soon."
About Position Logic
Position Logic, LLC, is a leading business-to-business, location-based services provider committed to supporting businesses worldwide with integrated and applied business intelligence, precision technology, and customized services and solutions. Position Logic has offices in Naples and Orlando, Florida and the Dominican Republic as well as clients in over 50 countries spread over the continents of North America, South America, Europe, and Africa and in the Middle East region. Position Logic provides GPS tracking software and hardware solutions, service and support to several key industries, including fleet management, Automatic Vehicle Location (AVL), logistics, and security monitoring and crisis management.
For more information about Position Logic, please contact our Sales Team by phone at 866-676-2372 (Toll-Free) or 239-465-0587 (US/International), 801.665.0587 (fax) or by email at sales@positionlogic.com. You can also visit the Position Logic website at http://www.positionlogic.com?inc-500-pr