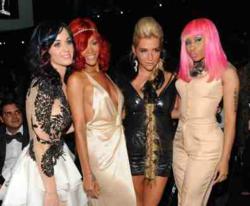 Music and Commerce, the top luxury concierge agency catering to C-level execs, celebrities and socialites has you covered with an insider's take on the hottest places to eat, play and stay during this can't miss rendezvous.
(PRWEB) August 21, 2012
The Video Music Awards , MTV's biggest night has become a much anticipated musical event and extravaganza on the social calendar. From outrageous performances, fabulous celebrity spottings and the best after parties of the year, it's no wonder why this spectacular event still maintains its allure.
The 2012 VMAs will be held at the Staples Center in L.A. on Thursday, September 6. Music and Commerce, the top luxury concierge agency catering to C-level execs, celebrities and socialites has you covered with an insider's take on the hottest places to eat, play and stay during this can't miss rendezvous.
How To Travel
Apollo Jets Private Charter
Apollo Jets offers exceptional private jets with world-class service. Enjoy the sheer luxury of sitting back and truly enjoying the flight on an extensive selection of luxury aircrafts.
(Apollo Jets, http://www.ApolloJets.com)
Singapore Airlines
Commercial flyers should opt for Singapore Airlines, which offers daily flights to LAX- the most spacious seating in the air with unsurpassed Asian grace and hospitality.
(Singapore Airlines, http://www.SingaporeAir.com)
Empire CLS
Get around L.A. in style in your own chauffeured vehicle via Empire CLS, the car service often used by celebrities. Whether you require a Mercedes S-class, a Bentley or even a Rolls Royce Phantom the company can cater to all your needs and get you to the VMAs as well as all of the after parties like a star!
(Empire CLS, http://www.EmpireCLS.com)
Where To Stay
The Ritz Carlton Los Angeles
Stay steps away from the Staples Center, The Ritz Carlton is our hotel pick for the VMAs. Enjoy luxurious yet modern interiors, fabulous dining including WP24 restaurant & lounge by Wolfgang Puck and even stimulating nightlife activities, all within the hotel.
(Ritz Carlton, http://www.RitzCarlton.com)
Mr. C Beverly Hills
Those seeking privacy and an impressive boutique hotel experience should check into Mr. C Beverly Hills. This chic luxury hotel is tucked away in Beverly Hills and comes complete with lush old Hollywood style interiors, an amazing pool and elegant ambiance.
(Mr. C Beverly Hills, http://www.MrCHotels.com)
Where To Eat
Simon L.A.
As one of L.A.'s premier restaurants, Simon L.A. offers Californian cuisine at its finest by creating artesian dishes with fresh local produce.
(Simon L.A., http://www.simonlarestaurant.com)
Rivera
Pan-Latin food by master chef John Rivera Sedlar takes center stage at Rivera. Whether you want to enjoy small plates or a full blown Latin meal, Rivera is one of the hottest restaurants in L.A. for its celebrity chef, wine list and of course celeb watching.
(Rivera, http://www.RiveraRestaurant.com)
Where To Play
LURE
Upon entering LURE, guests are ushered through a sweeping diamond faceted façade to reach a striking abstract garden featuring 12 oversized cabanas, water features and flower sculptures. Intricate metal lace work accents, dark mahogany floors and four full-service mosaic style LED bars only ads to its grand appeal. Within the spacious venue are exclusive luxuries that set Lure apart from other nightclubs: a restaurant - Lure Gastro Lounge - which features a delectable menu, a VIP section with its own bar and restrooms, and a secret back garden with suspended plants and 6' topiary chandeliers exclusively for celebrities and A-listers with its own private entryway.
LURE Hollywood, (http://lurehollywood.com)
Supperclub
With locations all around the globe the Supperclub has become on of the hottest nightlife spots but the LA outpost takes the cake. The futuristic ambiance and VIP crowd make this hotspot a must stop after the VMAs.
(Supperclub, http://www.supperclub.com)
How To Experience The VMAS
The best way to experience the VMAs is by actually being there live to watch some of your favorite music stars as they go up on stage to receive the coveted Moon Man Trophy. Many of the Music and Commerce clients who attend also set up meet and greets with their favorite stars either before or after the show to make this special night an unforgettable one.
Contact a Music and Commerce representative at info (at) musicandcommerce or 1-866-70-WORLD for more info on this service.
Can't Miss Events
House of Hype Post VMA Party
The House of Hype post VMA party draws a large crowd and is almost impossible to get into, unless you know us of course. Last year it was held at the L.A.'s hottest luxury hotel, SLS Beverly Hills and played host to pop icon Katy Perry.
Esquire Top 100 Dinner
The Top 100 dinner is the perfect way to gear up for the never-ending night of VMA after parties. The 2011 dinner was also held at the SLS Beverly Hills where guests ranging from Kelly Rowland to Emma Stone toasted the night with Armand de Brignac champagne and fare from celeb chef José Andrés.
In Touch Icons & Idols Post VMA Party
The annual party is a celeb favorite and is often held at a swank outdoor venue this event has a youthful fun and sexy vibe. Last year teen sensations Vanessa Hudgens and Ashley Tisdale were spotted at the private event.
All of the featured experiences can be arranged and customized for you by a Music and Commerce representative by emailing info@musicandcommerce.com or via phone at 1-866-70-WORLD
About Music and Commerce:
Music and Commerce is one of the top international luxury marketing and luxury concierge agencies based in New York that caters to every detail of the affluent lifestyle. Music and Commerce possesses personal relationships and exclusive access to the most prestigious luxury corporations in the world. Clients include international C-level executives, celebrities and socialites.
###