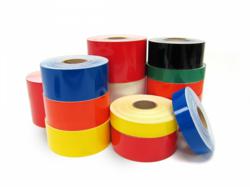 "I have fewer accidents and my safety record has doubled since using color coded labels."
Lake Oswego, OR (PRWEB) August 22, 2012
LabelTac offers a full collection of OSHA and ANSI industrial labels. The SafetyTac Lean Hazard tape is one of the collections that will withstand any amount of heavy forklift and other industrial traffic. Industrial labels striped color code in black/white, red/white or yellow/white will stand out wherever they are installed. The use of this type of tape on industrial floors is made to throw pre-caution to a hazardous area. Safety programs consider the industrial color codes on labels as a must have in any industrial or office environment.
Smart Stripe Tape is another label product that can be used as a mask for hard chrome plating and anodizing or harness and pipe wrapping or banding. The color code tape is available in 10 different colors for all solutions to marking off floors, walls, doors, workbenches and even tools. Other brands may need special applicators to install tape, but LabelTac labels are simple and easy as a peel and stick application. Unlike painted lines that may peel and crack under heavy traffic areas, the industrial labels are a durable solution to heavy pedestrian traffic and normal warehouse equipment like forklifts and pallet jacks.
SafetyTac is an upgrade and is the strongest industrial floor tape available on the market. No other brands of industrial labels can compare to the quality, affordability and durability that is offered by LabelTac. LabelTac's label supply is engineered and designed to last 5+ years in outdoor applications, and even longer for indoor use. The versatility is great for making labels and signs for 5S, lean and safety programs. As one warehouse manager commented, "I have fewer accidents and my safety record has doubled since using color coded labels."
LabelTac is a leading source for industrial grade labels that will ensure safety and lean environments in the industrial market. To learn more about industrial labels, please visit http://www.labeltac.com for more information.