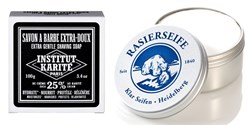 Toronto, Canada (PRWEB) August 21, 2012
Fendrihan is well-known for an unparalleled dedication to supplying discerning men everywhere with the finest shaving and grooming products available from all over the world. This passion for providing a variety of quality options to men has led to the addition of two more brands from Europe, Klar Heidelberg and Institut Karite. Together, these two brands bring an assortment of soaps, shaving soaps and shea butter enhanced products to the Fendrihan family.
From Klar Heidelberg Seifen, Fendrihan now offers a collection of men's soaps that ranges from Klar's Hair and Body Olive Oil Soap on a Rope in bergamot, grapefruit, lavender and rosemary to shaving soaps in various scents and several classic hand soaps. There is even a Klar's shaving soap formulated just for women. Institut Karite Paris contributes an array of gentle products, which includes soaps, shampoos, conditioners and shaving creams that are all infused with shea butter to moisturize the skin and hair.
About Fendrihan:
Fendrihan supplies a truly international experience in men's shaving and grooming products. Based in Canada and featuring luxury men's grooming products from across the globe, Fendrihan is pleased to offer 1,355 products for your consideration at http://www.fendrihan.com. Fendrihan's evolving selection appeals to veteran wet-shavers as well as men of any age or experience looking to elevate their daily grooming rituals. The Fendrihan compendium also includes standout European leather accessories offering the organization and clever convenience demanded and appreciated by their customers.
Contact:
K. Estredo
1(905) 696-9997
sales(at)fendrihan(dot)com
http://www.fendrihan.com
http://www.facebook.com/pages/Fendrihan-Shaving/131813149638