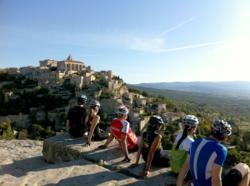 This is possibly our best year yet with the release of some amazing new trips in Africa, North America and Europe.
Madison, Wisconsin (PRWEB) August 22, 2012
Trek Travel, a leader in personalized and luxury cycling vacations, announces their roster of new trips for 2013. Taking place in destinations around the world, Trek Travel's bicycling experiences will entice and excite every type of cyclist. From recreational cyclists who wish to experience the best of European travel on a bike to families seeking new active vacation options, to avid riders who want to train like the pros, Trek Travel will meet the needs of travelers who love to combine biking and traveling. Each journey begins on a top-of-the-line Trek bike, where riders will experience the world-class support and service of their highly knowledgeable Trek Travel guides who hail from around the world.
"This is possibly our best year yet with the release of some amazing new trips in Africa, North America and Europe," said Meagan Coates, Trip Design Manager. "We can't wait to take people on trips ranging from a once-in-a-lifetime experience in Tanzania bicycling down Mt. Kilimanjaro, to our new European Chianti to the Coast trip, to cycling the mountains of Boulder or Moab on one of our new Ride Camps. Plus we've increased our number of family-specific destinations and redesigned them from the ground up to include a variety of active family friendly adventures."
New European Bike Trips including 100th Anniversary Tour de France offerings
As the Tour de France celebrates its 100th anniversary in 2013, Trek Travel will roll out the red carpet for avid cyclists who want to experience some of the most difficult and rewarding climbs of the Tour. The Centennial Year Classic Climbs of the Tour includes an up-close and personal ride over some of the most talked about climbs of the Tour including Tourmalet, Col d'Aubisque, Ventoux, Col d'Izoard, Alpe d'Huez and Télégraphe. Guests will enjoy delicious cuisine, hand-picked hotels, Trek Travel support on epic Tour de France climbs, all without the Tour crowds! "This trip is going to be epic with all the major climbs of the Tour included. Not for the faint of heart, but definitely a bucket list trip for fans of the Tour de France," said Coates.
For recreational riders who seek new European cycling experiences, Trek will introduce two trips to delight lovers of beer and wine. Bruges to Ardennes features rolling green country, artisanal beers and the world's best chocolate in Belgium. Highlights include a tour and tasting of a family run artisanal brewery, lodging in a chateau and visiting WWII monuments. The Chianti to the Coast bike trip in Tuscany winds through the hills of Chianti to the crystalline Mediterranean Sea and features some of the world's most famous wines along with some tastings.
Family Friendly Travel
Trek Travel has added two active vacations designed for families with children. The popular "multisport" trips include biking, hiking, paddling and kid-friendly venues. The new Vermont trip gives families a taste of classic New England and the Green Mountains. The Zion Family trip is a long weekend where parents and kids alike experience the best of the natural wonders of Zion National Park. Created specifically for families, these trips offer great value.
World Serve Kilimanjaro (be the first to mountain bike down Mount Kilimanjaro)
Trek Travel is proud to participate in WorldServe Kilimanjaro, hosted by Tanzania Goodwill Ambassador Doug Pitt. In this first ever-permitted ride, guests will hike up Mt. Kilimanjaro and mountain bike down in this 12-day adventure. Proceeds will go toward supporting clean water wells to serve Tanzania, where 2 out of 5 kids do not reach the age of five due to waterborne illnesses. Ambassador Pitt and Trek Travel will also orchestrate one of the largest environmental clean-up efforts of Mt. Kilimanjaro in recent history on the climb up. This special trip will take place from February 22-March 5, 2013. The price ranges from $25,000 to $85,000 with 80 to 90 percent of the tax deductible fee going to WorldServe Kilimanjaro.
Boulder & Moab Ride Camps
In 2010, Trek Travel introduced "Ride Camps" and the concept continues to flourish. Developed for the more independent cyclist, who may be training for a professional race, or just loves to ride daily with like-minded cyclists, this trip is all about riding in magnificent locations. Trek Travel is introducing two new destinations in the Western US: Boulder, Colorado and Moab, Utah. Boulder Ride Camp takes cyclists up and over classic mountainous routes, while Moab offers the first mountain bike Ride Camp experience in the world's most famous mountain biking destination.
About Trek Travel
Based in Madison, Wisconsin, Trek Travel is an active vacation company specializing in cycling vacations. Each trip includes the use of a high-end Trek bicycle; accommodations; most meals, snacks and drinks for each day's ride; daily route support; social hours; entrance fees to group events; transportation during the tour; comprehensive Trek merchandise and more.
Trek Travel was formed in 2002 as the luxury bicycle touring arm of Trek, one of the world's largest bicycle manufacturers. This year, the company marks its tenth season offering luxury, economy, personalized bicycling vacations and Ride Camps around the world. For further information contact Trek Travel at 1-866-GO4-TREK (464-8735) or visit the web site at http://www.trektravel.com/2013.