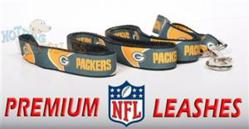 (PRWEB) August 28, 2012
Pet Product Manufacturer & Retailer HotDogCollars.com introduced this week an all new line of Licensed NFL Pet Products. Football accessories for your dog (or cat) will include 2 versions of collars, leashes, harnesses, couplers, and the Ding Dog Bells Training System. The new line up will be the only NFL products manufactured entirely in the US by US owned and operated companies.
The growth of the National Football League has mirrored that of the Pet Accessory Industry over the past decade. During this period of growth Hot Dog Collars has consistently been a leader in both the Accessory Marketplace as well as Licensed Sports Pet Products. Original sports licenses with Pet Product Manufacturers restricted production to a single entity with an exclusive license. However new league growth models have empowered innovation, creativity, and additional product categories. Hot Dog Collars recognized this new license availability and worked with US based manufacturing and license holders to bring these exciting new designs to the retail marketplace. Managing Member Todd Handler says of the new line "We were excited to see the end of the exclusive license as the marketplace is ready for new and innovative products. As the online leader in Licensed Pet Accessories, we look forward to sharing a host of new products with dog owners and sports fans everywhere".
Find an NFL Dog Collar, Pet ID Tag, Harness, Bed and more at Hot Dog Collars. NFL Pet Headquarters, including collars, leads, jerseys, bandannas, shirts, beds, tags, and more.
http://www.HotDogCollars.com
1-888-NFL-DOGS (635-3647)
help(at)hotdocollars(dot)com