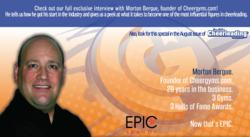 Elkridge, MD (PRWEB) August 20, 2012
The EPIC Brands is featuring successful gym owners and coaches this season in Inside Cheerleading and Cheer Biz News with a photo on the back cover and an interview inside the magazines and on social media. We feel there are a multitude of "EPIC" cheer programs in the United States, thanks to the hard work and determination of people that have a genuine love for the sport of competitive cheerleading, and our goal is to recognize these programs in addition to giving others insight and advice from those that have experienced success in this industry. EPIC Brands had the chance to catch up with Morton Bergue, owner of Cheergyms.com and world- renowned coach, choreographer, speaker, and judge. Morton has been involved in the cheer and dance industry for 30 years, and has been blessed with opportunities that many of us can only dream about.
In addition to being a successful gym owner with 3 cheerleading facilities in California, Morton has also been a judge for every major cheerleading company in the industry, choreographer for many well-known productions such as the Aloha Bowl, Macy's Thanksgiving Day parade, and St. Patrick's Day Parade in Dublin, Ireland, and a key note speaker at many of the top USASF and NACCC meetings and conferences. His ability to talk to people and love for this industry has been a crucial element to his success, and The EPIC Brands look forward to seeing him and his teams do more great things in seasons to come.
Check out his feature in the August 2012 issue of Inside Cheerleading, and find his full interview at http://www.theepicbrands.com!