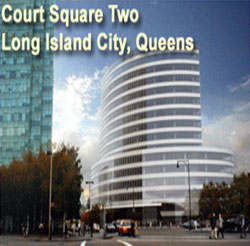 "The Spacesaver stationary shelving we provided is Greenguard certified and uses 90% recycled steel" - Robert Fighera
Long Island City Queens, NY (PRWEB) August 22, 2012
The iconic LEED Gold certified building at 2 Court Square is now the new home for the renowned CUNY Law School. By purchasing a six-floor condominium interest in the 14-story environmentally green building. CUNY Law School has made a commitment to the environment and its students. Citigroup will retain ownership of the remainder of the building. The move gives the school nearly 70,000 additional square feet of space and enables it to develop and offer a new, part-time program. The building is within walking distance of seven subway lines (two within one stop of Manhattan), the Long Island Railroad, and eight bus lines. It is only a few blocks away from the Long Island City Courthouse.
Within the environmentally friendly building, law school students will benefit from the floor to ceiling glass curtain-wall design that maximizes access to daylight and exterior views. Through DASNY (Dormitory Authority for State of NY), the managing enterprise for this project, Modern Office Systems, LLC was chosen to supply the library shelving for the new space.
In keeping with the environmental theme, Modern Office Systems supplied cantilever library shelving for the 95,000 volumes being housed at the Law School. "The Spacesaver stationary shelving we provided is Greenguard certified and uses 90% recycled steel", said Robert Fighera, an account executive at Modern Office Systems who worked on this project. "We also supplied shelving for over fifty offices within the premises. We pride ourselves on the library shelving products and the many other storage solutions we make available to our customers. Even our modular casework products are Greenguard certified and work with LEED projects".
Modern Office Systems, LLC is a storage systems and library furniture solutions provider located in midtown Manhattan.