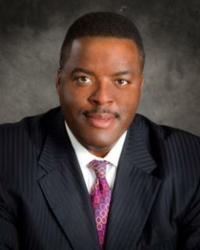 Playing in the NFL was the highest form of competition and bringing that level of focus to my position at Retrofit will be an advantage," says Smith.
Skokie, Illinois (PRWEB) August 21, 2012
(August 20, 2012) -- Former NFL player Reggie L. Smith joins Retrofit Weight Loss (http://www.retrofitme.com) as Vice President of Business Development of the data-driven weight loss company dedicated to helping clients lose at least 10% of their body weight and keep it off for good.
"Being a former professional athlete allows me to approach this new opportunity from a competitive perspective. Playing in the NFL was the highest form of competition and bringing that level of focus to my position at Retrofit will be an advantage," says Smith.
Smith played college football at the University of Kansas (where he was a Football News Sophomore All- American) before two 3rd round draft selections from the Denver Broncos (NFL) and Tampa Bay Bandits (USFL). Smith played six years professionally with stops with the Denver Broncos, Tampa Bay Buccaneers (NFL) and Tampa Bay Bandits (USFL).
He is the current President of the National Football League Players Association (NFLPA), Former Players-Chicago Chapter and a professional speaker. Smith's career has included starting and building a litigation support business in Chicago prior to accepting his new position with Retrofit Weight Loss.
As a Retrofit client himself, Reggie has fought his own battle with weight, recently losing 70 pounds. He is passionate about helping turn the tide on America's obesity epidemic and looks forward to sharing the secrets of his success that he learned on the Retrofit Weight Loss program. More than 90% of the company's clients are losing weight.
In his role as the NFLPA Former Players, Chicago Chapter President, Smith was instrumental in forming a partnership with Retrofit Weight Loss to help its athletes get back in shape. The partnership not only helps the former players, but provides generous donations to the NFLPA Chicago Chapter Scholarship, helping send several students to college each year.
"I am excited to be able to bring a lifestyle change to former athletes as well as a host of others," Smith said. "After you leave the regimen and coaching the NFL provides, some of us don't always take care of ourselves the way we should. Retrofit is an opportunity to give back to those who need additional support.
"As VP of Business Development at Retrofit, I'll have the chance to work for a new technology company with a life-changing vision, while at the same time improve the quality of people's lives," Smith said.
The company markets its innovative weight-loss protocol to consumers through employers and physicians. Retrofit Weight Loss uses wireless activity trackers and Wi-Fi scales, along with personal teams of experts that implement behavioral, nutritional and scientific methods to help clients find success.
"Reggie Smith is an A-player, whom we are proud to add to our team," said Retrofit Weight Loss CEO Jeff Hyman. "Athletes understand that top performance starts with a focused mind-set and willingness to achieve goals; Reggie has demonstrated those qualities on the field and in the business world."
In addition to his professional career, Smith has served his community as Chair of the Trustee Board of AMI Infinity Schools, Chicago. In association with a local chapter of the National Association of Home Builders, Smith organized a service day to revamp a Chicago area alternative high school and has volunteered with programs for the United States Department of Housing and Urban Development. He also serves as an advisory board member of both the Sports Legacy Institute and the Illinois Brain Injury Association and is a member of the Chicago Concussion Coalition. Smith lives in Naperville with his wife and three children.
For more information on Retrofit Weight Loss, contact Smith at reggie(at)retrofitme(dot)com or
(855) 4-RETROFIT x778.
About Retrofit Weight Loss
Retrofit Weight Loss provides a new high-tech, high-touch data-driven approach to weight loss, designed to deliver lasting results. Its innovative year-long program includes wireless monitoring of a client's weight, activity and sleep, as well as individualized counseling from a registered dietitian, exercise physiologist, and behavior coach.
Retrofit Weight Loss can be found on the Web at http://www.retrofitme.com and (855) 4-RETROFIT. Follow the company on Facebook at [http://www.facebook.com/retrofitweightloss and Twitter at @retrofitme.
####