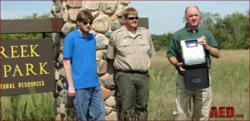 I was totally stunned and extremely grateful...
Brentwood, TN (PRWEB) August 20, 2012
In 2011, Gus Stangl started work on the grounds of Big Creek State Park that would lead to the donation of a Powerheart AED G3. After getting recertified in CPR and learning about AEDs, Gus realized that the state park he visited often did not have an onsite AED. With well over half a million visits in 2010, Gus saw the need for an Automated External Defibrillator (AED) and began to integrate a way to raise funds and clean up the park into his volunteer work.
AED.com recently decided, as a part of its 2012 AED giveaway, to help Big Creek State Park and Gus expedite the AED implementation process. When AED.com donated the AED, Gus noted, "I am certified in CPR and know how important it is to have an AED in case of an emergency. I started collecting cans and bottles to purchase one for Big Creek State Park in Iowa. I was totally stunned and extremely grateful that AED.com came forward with a donation."
Recently Gus Stangl, Chad Kelchen of the Iowa Department of Natural Resources, and Kevin Szcodronski, Bureau Chief of State Parks, attended a presentation of the new Powerheart AED G3 at Big Creek.
SCA (sudden cardiac arrest) strikes over 350,000 people in the United States every year. The only thing that will potentially save those included in this staggering statistic is a defibrillator. AED.com's mission is spread awareness about Sudden Cardiac Arrest and the importance of quick access to an AED.
AED.com is headquartered in Brentwood, TN. AED.com's parent company, DXE Medical Inc. was founded in 1999 and provides services to over 20,000 customers in all 50 U.S. states and 35 countries worldwide.
For more information, please visit: http://www.aed.com/